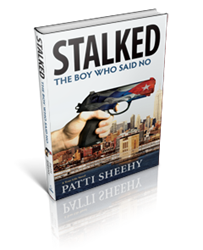 "This mix of thriller and history offers a fascinating but depressing look at life under Castro's totalitarian regime... a tense and exhilarating read."—Library Journal
Longboat Key, Florida (PRWEB) September 02, 2014
Oceanview Publishing is proud to announce the release of Stalked, the highly anticipated follow up to The Boy Who Said No by Patti Sheehy, September 2, 2014.
Stalked is available in hardcover (ISBN: 978-1-60809-125-6, 360 Pages, Historical Fiction/Thriller) and all Digital/eBook Formats (ISBN: 978-1-60809-126-3) through Booksellers and Public Libraries everywhere.
Frank Mederos' story of heroism continues...
Patti Sheehy continues Frank Mederos' true-life story of romance, suspense, and intrigue in Stalked: The Boy Who Said No. After defecting from Cuba's Special Forces and making a harrowing escape from his homeland, Frank faces new challenges in America. With five dollars in his pocket and a boatload of determination, he rejects an offer to join the CIA and takes his chances on achieving the American dream.
Frank and his sweetheart, Magda, want nothing more than marriage, children, and a nice life for themselves. Frank dreams of celebrating milestone anniversaries with Magda, but his dreams are dashed. Instead, the couple faces a challenge neither of them could ever imagine. Meanwhile, sinister forces in Cuba plan to avenge Frank's escape. Can Frank outwit Cuban operatives bent on killing him? Will he again overcome the forces of evil?
A tale of tender love, devastating loss, and the life-saving power of friendship.
About the Author...
Patti Sheehy grew up along the Delaware River in Yardley, PA. She earned a degree in history from Rider University. Sheehy ran her own marketing communications firm, did extensive magazine writing, and helped launch a magazine. Over the years, she served as a marketing executive, primarily in the healthcare industry.
Sheehy's first book, The Boy Who Said No: An Escape to Freedom, based on the true-life story of Frank Mederos, was released to critical acclaim and won the USA Best Book Finalist Award in its genre of historical fiction.
Stalked: The Boy Who Said No continues the harrowing story of Frank Mederos.
Patti lives with her husband, Robert Hunter, in Haddon Heights, NJ.
Ms. Sheehy and Mr. Mederos have developed discussion questions for book clubs and reading groups available at Discussion Questions
Patti Sheehy's website is pattisheehy.com
The following engagements are scheduled:
Tuesday, September 2, Release of Stalked: The Boy Who Said No by Oceanview Publishing
Friday, September 12, Book Launch for Stalked: The Boy Who Said No at Tavistock Country Club, Haddonfield, NJ. Time: 6-9 pm
Thursday, September 25, Franklin Township Library, 1584 Coles Mill Road, Franklinville, NJ 08322. Time: 7-8 pm. Contact: Denise Saia 856-856-2833
Wednesday, October 1, 2014. Bird Key Yacht Club, Sarasota, Fla.
Tuesday, October 7. PECO Energy. Energy Hall. 2301 Market Street, Philadelphia, Pa. Time: 11:30. Contact: Anna Mae Migliaccio, 214-841-5776. Event Coordinator: Diane Antonelli
Saturday, October 11. Collingswood Book Fest, Collingswood, NJ. Time: 10 am to 5 pm.
Tuesday, October 14, Haddon Fortnightly, Haddonfield, NJ. Contact: Debbie Irvine 856-428-0053. Time: 7 p.m.
Thursday, October 16, Junior League Book Club, Princeton, NJ. Home of Ann Strumpen-Darrie, 120 Lafayette Rd., Princeton, NJ (609-924-7484). Contact: Linda Wallis Scammell. Laws51aol.com (214-803-9633). Time: Noon
Wednesday, November 5, PEO Organization, Moorestown Chapter. Time: 11 am. Contact: Karen Arsenaua 856-753-9526 (Suzanne Hill)
Thursday, November 20, Rider University, North 208 (next to library). Time: 4:30 to 6 pm. Contact: Assunta Deliman
Hamilton/Robinsville Sunshine Rotary Club–Joe Bellina. Time:7:55 am–date to be set
Deptford Free Public Library, 670 Ward Drive, Deptford, NJ 08096. Contact: Susanne L. Sacchetti, MLIS, Library Director. Phone: 856-848-9149. Date to be set.
Speaking Engagements for 2015
March 21, 2015. AAUW, Medford Chapter, Medford, NJ 692 Medford Leas. Place: Holly Room. Contact: Elise Behmer 609-654-6651
May 20, 2015, Parke Place Book Club, 3 Parke Place Blvd. Sewell, NJ. Time: 1:30 pm. Contact: Judy Taylor, 1-609-617-4064
June 1, 2015. Haddon Fortnightly, Kings Highway and Grove Street, Haddonfield, NJ. Time: 12:30 pm. Contact: Irene Hempstead
STALKED and THE BOY WHO SAID NO are distributed through Midpoint Trade, Ingram, Baker & Taylor, Bookazine, OverDrive, and all other better literary distributors.