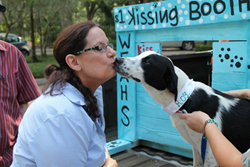 While I have spent most of my life helping people, I also how incredibly rewarding it is to save an animal's life
Denham Springs, LA (PRWEB) September 18, 2014
This past August, Narconon Louisiana New Life Retreat CEO Cathy Steiner got a kiss from Roy at the kissing booth during the West Feliciana Animal Humane Society fundraiser to support the James L. "Bo" Bryant Animal Shelter. "I have loved animals my whole life and have always had animals as part of my family with most of those animals being strays who needed a home. Supporting an animal shelter allows me to help even more animals since I can't take them all home!"
The CEO of Narconon Louisiana was there not only to lend support but to donate a car to the animal shelter. The fundraiser seemed like a perfect chance for Narconon to help others in the community.
The Bo Bryant Animal Shelter in St. Francisville was established as an effort to get stray dogs and cats in West Feliciana Parish adopted into good, long term homes. The animal shelter is open three days a week for people interested in pet adoptions.
"While I have spent most of my life helping people, I also know how incredibly rewarding it is to save an animal's life," Cathy remarked following the fundraiser. "We have several adopted dogs at Narconon Louisiana and I have seen how therapeutic it is for our clients. Struggling with overcoming addition can be an overwhelming task and the dogs can actually assist in the recovery process."
To find out more about the health benefits of therapy dog visits, you can go to: Perceptions of the Impact of Pet Therapy on Residents/Patients and Staff in Facilities Visited by Therapy Dogs
About Narconon Louisiana New Life Retreat
Narconon Louisiana, was founded in 2006 following the devastation of Hurricane Katrina in an effort to help the thousands of residents affected by addiction who had no available treatment resources. Located on approximately 15 wooded acres in Denham Springs, it is a non-profit alcohol and drug rehabilitation center licensed by the State of Louisiana. The Narconon drug rehabilitation and education program was founded in 1966 by William Benitez and uses the drug-free rehabilitation and social education methodology based on research developed by American author and humanitarian, L. Ron Hubbard. They are dedicated to eliminating alcohol and addiction through drug prevention education and rehabilitation. If you know someone struggling with alcohol addiction or drug abuse and would like more information visit http://www.drugabusesolution.com or call 877-340-3602. Any questions you, have will be addressed in confidence.