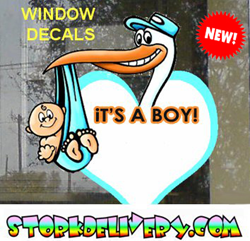 Lyndhurst, NJ (PRWEB) October 21, 2014
On Monday, October 20, 2014, Storkdelivery.com's managing partner, Dennis Mazza introduced the first retail products offered by the company since they began operations in 2003. At the same time, he announced the opening of several new distribution locations for their rental stork signs, including locations in Chicago, Delaware and Pennsylvania.
"Storkdelivery, has been delivering stork signs and baby birth announcements for over 10 years and we felt it was time to do something new with the characters. We want to be able to service all of our potential customers and we felt this was a great way to reach a wider audience," Mazza stated.
Storkdelivery.com will begin offering baby window signs and smaller stork signs that can be shipped anywhere in the US on their web site beginning November 1st. The new 4 foot storks are set to hit store shelves in January of 2015.
"Our brand is unique, and we continue to re-invent our product line year after year," stated Mazza. "We just recently re-launched our web site to re-emphasize our commitment to our partners and we hope to enjoy another 10 years of success in the stork sign business."
About Storkdelivery.com - Nationwide delivery of storks, stork signs, yard cards and lawn greetings for special occasions and more.