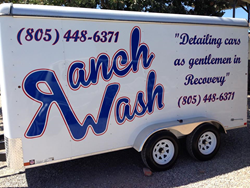 Detailing cars as gentleman in Recovery
Santa Ynez, CA (PRWEB) September 03, 2014
A new mobile car detailing service has been opened by the Recovery Ranch, a men's sober living in Santa Ynez, CA. Like Recovery Ranch's businesses Ranch Hands and Ranch Gear, Ranch Wash is staffed by residents and graduates of the Recovery Ranch. It is an opportunity for recovering addicts and alcoholics to develop new skills and become self-supporting.
Ranch Wash comes to your home or business with a professional, 14' x 7' double axel trailer. It is stocked with the detailing industries' latest top of the line equipment. Their experienced team is focused on paying attention to the customer's needs, while working with purpose and urgency. They are punctual, hard-working, and determined to be the best they possibly can.
The businesses of Recovery Ranch are driven by gentleman that are successful in their recovery. They show up with enthusiasm and have developed strong work ethics that reflect their passion for living sober.