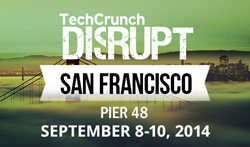 Power, reach, and influence are opportunities most small businesses don't have due to their size and limited resources. Everyware is about to remove that barrier.
San Francisco, CA (PRWEB) September 03, 2014
Everyware's mobile app launch will join some of the country's most notable disruptive technology start-ups at TechCrunch. DropBox, Tripit, GetAround, and Mint.com are just a few of the success stories to benefit from TechCrunch exposure in recent years. The world's most influential leaders in technology and business, including Luminaries and Unicorn Club members, will be speaking and making their rounds to see which hot new technology or products catch their eye.
Among this year's visionaries vying for attention is Everyware, a mobile application and integrated back–end system designed to put leading-edge customer relationship tools into the hands of small business. Larry Talley, CEO of Everyware explains, "We are working diligently to bring our technology to the small business owner so they can offer, and even exceed, the levels of service, connectivity, and efficiency of the power brands that dominate their local landscape. Power, reach, and influence are opportunities most small businesses don't have due to their size and limited resources. Everyware is about to remove that barrier." Now, even the smallest business can offer their customers an easy, fully integrated, end-to-end mobile solution that will allow them to manage appointments, receive deals, post reviews, and recommend businesses to friends. And it's a free download in iTunes and the Google Play Store.
The "10 Mile Universe" refers to the local sphere around our home where we spend 80% of our time. "It's best to think of Everyware as a tactile social media experience, rather than a passive view of someone's life or career. Everyware goes a step further and provides technology to support real service experiences both in and out of the home. We are rooting for the best small businesses to succeed because their individuality and survival is important to our community." says James Kluetz, CCMO of Everyware.
Everyware, the new link between businesses and their customers.
Built into the merchant software is an intuitive dashboard that provides the small business owner with the ability to track referrals, schedule appointments, manage point-of-sale transactions, and connect directly via text messaging. Merchants can reward, remind and appreciate their frequent customers without sacrificing profit. Everyware's deal builder makes it easy to send targeted promotions and specials to customers via push notification or in-app redemption.
For the consumer, Everyware provides an on-the-go mobile solution that gamifies the collection and categorization of local businesses, services and more. Sharing local favorites will be the newest rage in contextualizing social media. Users can eliminate the number of apps they use because Everyware does everything from mapping locations, providing directions, dialing a business, booking an appointment or making reservations. Everyware is social too; check-in on Facebook, share reviews and rate your experience all in one place. According to CFO Scott Orlinsky, "The interest in funding the next stages of our growth has been exciting because key investors are understanding the real value of this highly connected relationship we are building."
Everyware will be sponsoring a VIP cocktail reception on day two of TechCrunch Disrupt. The Everyware team will be networking with notable entrepreneurs, CEO's, venture capitalist, and other tech start-ups. Hors d'oeuvres and cocktails will be served on Tuesday, September 9th from 6:00-7:30pm at Pier 48.
The Everyware founders will also be attending a VIP dinner on Monday evening with some of the most influential business leaders; CEO's Marc Beinoff, Liam Casey, Emmett Shear, and Brian Chesky; entrepreneur Mark Cuban; founder of Quicken Loans, Dan Gilbert, Max Levchin, Julia and Kevin Hartz, several venture capitalists, angel investors, and other influencers will all converge and share insight and experiences. Tech-savvy celebrities have been known to make an appearance such as Ashton Kutcher, Demi Moore, Facebook founder Mark Zuckerberg, and Jessica Alba.
About TechCrunch:
TechCrunch Disrupt is one of the world's leading conferences for tech start-ups held twice a year in New York and San Francisco. TechCrunch Disrupt is being held in San Francisco at the Pier 48 from September 8th through the 10th. Record turnout is expected this year with close to 3,500 attendees. This event will be streamed live to millions of viewers' worldwide.
About Everyware:
We simplify marketing and communications for small business by creating a personalized mobile connection that drives loyalty and redefines the customer experience.
Everyware is a start-up company that fills a gap in the tech world that small businesses need. The founders of Everyware have the foresight and skill set to take this idea from concept to market. Larry Talley, Everyware visionary and CEO has spent over 15 years architecting large scale web applications, marketing technology, branding, and business development in South Florida. Joe Russoniello is the COO of Everyware. He brings extensive knowledge from the financial industry and a history of building successful teams and identifying award winning talent.Scott Orlinsky is Everyware's CFO. He brings a wealth of experience in finance and retail. He is a seasoned C-Level executive with a history of 20 years experience serving 13 years as President of both public and national brands and private technology companies. James Kluetz is the CCMO with Everyware. He is a classically trained designer from New York with an FIT from BFA. He brings a unique design aesthetic as well as a deep understanding of branding and marketing tactics.