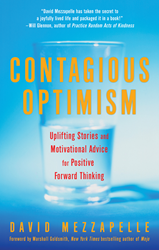 "David Mezzapelle has been one of the most optimistic and insightful individuals I have ever known...'Contagious Optimism' is a perfect example of that. Once you read this book, it is sure to change your life as well." —John Popper, Blues Traveler
(PRWEB) September 02, 2014
Singer-songwriter Harold Payne has teamed up with Contagious Optimism and will be playing in Oak Park, CA, on September 10, 2014. Admission is free with purchase of a Contagious Optimism LIVE ticket, which will be held on October 11, 2014 in Thousand Oaks, CA. Contagious Optimism LIVE is a suite of uplifting and motivational talks by real people from around the globe along with coauthors from the Contagious Optimism bestselling book series. These LIVE events also include powerful music and entertainment throughout the day. The purpose is to foster inspiration and to help people find their own silver linings - all bundled into a fun afternoon and evening.
Harold Payne has worked with a wide variety of artists, ranging from Kelly Rowland and The Temptations to Rod Stewart and Snoop Dogg. He recently received the UK's Q Magazine's Best Album of the Year Award with the late Bobby Womack.
Contagious Optimism (also available in audio) is an uplifting book series that includes inspirational stories from real people around the globe along with insight and guidance from professionals. The author, David Mezzapelle, believes that we all have the capacity to make optimism contagious just by sharing our life's adventures, including the ups and the downs. Whether people are enduring good times or bad, just knowing that others have persevered from similar experiences is comforting and spreads a message of hope.