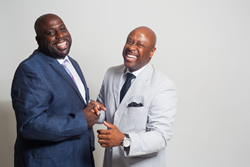 There is no greater experience than helping others to win, stated Colclough
Philadelphia, PA (PRWEB) September 09, 2014
Longtime accomplished businessman Russell Dinkins has created a newly expanded radio program solely dedicated to helping diverse suppliers stay encouraged and make connections. The Boardroom Meeting, co-hosted by Wade Colclough, former CEO of Minority Supplier Development Council (MSDC) of PA-NJ-DE and Diversity Plus Magazine's Top 30 Champions of Diversity in the U.S., now becomes the tri-state region's only radio program devoted to connecting entrepreneurs with corporate purchasing officers and procurement officers in real time. "There is no greater experience than helping others to win," said Colclough. "From my involvement in the diversity supplier space, I understand how hard it is for businesspeople to stay encouraged during challenging times and how difficult it is to identify those companies that not only say, but practice inclusion."
Founded by Dinkins in 2008 and airing on WWDB 860AM on Wednesdays at 1:00PM, EST. The Boardroom Meeting was established to help level the playing field for small and mid-sized businesses that wanted to interact with larger firms. "Our goal is to provide an environment similar to that of a golf course, country club or private mixer where true and long-lasting relationships are made through a talk radio platform," stated Dinkins, insurance magnate and president of the Boardroom Meeting.
As stated by Rob Handfield in "Minority-Owned Supplier Contracts: The Right Smart Thing to Do!" "Supporting minority suppliers is not only the right thing to do; it is also the smart thing to do. As the nature of America's demographics and workforce is continually changing, organizations will need to hire and train people with multi-cultural backgrounds, and promote relationships with suppliers and customers from diverse backgrounds.
Co-hosts Dinkins and Colclough consider themselves BRB's, Business Relationship Brokers and plan to feature a pool of prominent entrepreneurs, c-level executives and procurement officers, to give listeners an insider's approach to hiring and to feature corporate speakers who are committed to supplier diversity along with providing relevant business content so entrepreneurs can stop enduring and start enjoying the business of business.
"An increasing number of companies have focused on supplier diversity simply because it is good business. Minorities now represent the largest sales growth markets, especially in consumer goods, and companies realize that increasing the amount of business with minority businesses may mean increased sales for their own firm over the long term," noted Handfield.
ABOUT The Boardroom Meeting
The Boardroom Meeting is a talk radio business platform dedicated to encouraging and connecting diverse firms through live networking. To watch the video click here. The Boardroom Meeting is co-hosted by Russell Dinkins and Wade Colclough and airs Wednesdays at 1:00PM, EST on WWDB 860AM and serves Philadelphia, Northern Delaware north through Chester, Montgomery and Bucks Counties, east beyond Trenton and South beyond Washington Township and New Jersey.