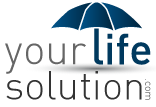 Chicago, IL (PRWEB) September 02, 2014
YourLifeSolution.com, a service which provides consumers with instant online life insurance quotes, is today publishing the basic architecture of a business continuation plan that's funded by life insurance. YourLifeSolution.com has chosen to do this as a service to business owners in helping them insure their business from the financial demise of death. "The death of a business owner can very often become the death of their corporation if there isn't appropriate planning", said Eric Smith, the founder of YourLifeSolution.com.
YourLifeSolution.com's Plan for Business Continuation Planning:
Each business partner is to insure their own life and make the other business owners equal beneficiaries. When one of the business owners dies, the life insurance proceeds are used to purchase the dead partner's shares of the corporation and keep the business entity operational. Generally, it's best to use permanent life insurance to do this as it allows for a perpetual solution to an inevitable risk.
Consumers interested in researching their own life insurance options can do so at YourLifeSolution.com. Information can also be obtained by phone at 888.374.2764.