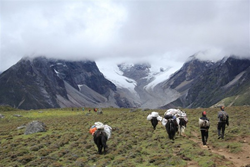 Himalayan World-class Trekking
lhasa, Tibet (PRWEB) September 10, 2014
At an elevation of 8,844.43 meters, Mt. Everest is the main peak of the Himalayas. The world's number one peak rises high on the border of China and Nepal. Its northern slope lies in the Tingri County of Tibet. Commanding reverence from fellow giant peaks nearby, Mt. Everest is shaped just like a majestic pyramid soaring up into the sky. For foreign travelers, Everest Travel has become one of the most popular trekking destinations, offering a chance to gaze on the magnificent northern face of the world's highest peak.
"It is the hottest attraction in Tibet. Tibet Vista has organized thousands of foreign tourists to travel there," said Chloe Xin, the travel consultant of Tibet Vista. "Many travelers will ask a bunch of questions about Everest region. Now, in order to get our travelers better prepared, Tibet Vista offers the most practical travel guide for them," Chole continued.
Top Attractions in Everest Region
Everest Base Camp: 
Everest Base Camp is a reservation place for the focal area of Mt. Everest, located 19km from Mt. Everest, 5,200 meters above sea level. Residing at the south of Rongbuk Temple, it provides basic living facilities, for instance tents, hotels, shops, and even a post office. There is no permanent building except two public toilets. Every year the perfect season for climbing Mt. Everest starts from early April to late May. Then, ambitious climbers and mountaineers from all over the world will gather here, which forms a unique sight. After a short recess there, climbers and mountaineers continue their adventure to Mt. Everest. And from this vantage point, the famous flag cloud cannot escape from tourists' eyes.
Gama Valley: 
Located at the downstream of PumQu in Tingri county and Dinggye county, this valley is 55km from east to west and 8km from south to north. In this area with diverse topography, there are different types of forests, evergreen, half evergreen and other primeval forests. The peculiar land with junipers covers a vast area of the virgin forest. Its ancient and majestic appearance makes travellers feel like traveling in ancient time. The wondrous Snow Mountains, wild flowers,and wild animals are waiting for tourists to discover. It is a true paradise for trekking. So if tourists like great natural scenery, why not just come and have a look in person. But this place is no easy to arrive. The only transportation available is through yaks and horses. And this journey requires lots of energy and stamina. Therefore, if an tourist decides to go there , what one needs is to have proper preparation both physically and mentally.In addition to Gama Valley Trek, Everest Base Camp Trek, Everest Advanced Base Camp Trek also enjoys great popularity among other Everest Treks in Tibet.
Rongpuk Glacier
The famous Rongpuk Glacier is just 300 meters away from the Rongpuk Monastery and lies on the vast area between 5,300-6,300 meters above sea level at the foot of Mount Everest. Formed with the western, central and far-eastern Rongpuk Glaciers, this giant glacial dragon stretches for 26 km, covering 1,500 square km, with the glacial tongue measuring 1.4-kilometer on average in breadth. As the largest glacier inside the Mt. Everest State Natural Reserve, the Rongpuk Glacier is the world's most fully-developed and best preserved glacial wonder.
Rongpuk Monastery 
Rongbuk Temple is located at the top of Droma Mountain which is 5,800 meters above the sea level. As the world's highest temple, it has a vantage view for the scenery of Golden Mountain. Built in 1899 by a Mongolian Lamaism lama Awang Tenzing Rob, it embraces a history of more than 100 years. With more than 20 palace halls, there used to have more than 600 monks and nuns at its prime time, but now there are 11 monks and 8 nuns left. In the main hall, it serves the statue of Sakyamuni with other Buddha figures. Besides, the murals here also deserve further appreciation.
Best time to go to Mount Everest Base Camp
Due to its extreme altitude, Mount Everest is covered by snow all year round and the climate here is quite harsh. The most distinctive feature of the climate of EBC may be the dramatic temperature change between day and night.
The best time to travel to EBC is from early March to the end of October. The climate will be relative better and the temperature is comparatively milder. But tourists should remember that it is quite cold at night (very likely below 0 °C even in summer), even though it can rise up to possibly around 10 °C in the daytime because of the sunshine.
Clothing and Food 
Down jacket and winter clothes are absolutely necessary. "Some travelers wonder if it is necessary to bring T-shirts since they are traveling in summer. In fact, it is unnecessary to bring T-shirts as Everest Base Camp has no such season as summer. It's always cold there," said Chloe. There is no fancy restaurant, only the basic and instant food. Because of the harsh environment and climate, there are only a few restaurants and stores, where travellers can buy simple food and beverages. Please prepare some snacks or dried food just in case.
About Tibet Vista 
Tibet Vista - Tibet Travel and Tour Experts (http://www.tibettravel.org) Your window to Tibet travel and Tibetan culture. Visit us to get the first-hand Tibet Travel information, helpful Travel ideas and customized Tibet tours.