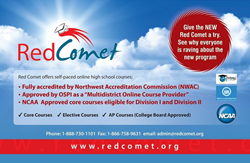 Prosser, WA (PRWEB) September 09, 2014
Red Comet obtained approval from National Collegiate Athletic Association (NCAA®) for several of its high school courses. For the 2014-15 school year, students may enroll in several core courses in all subject areas, including English, Science, Mathematics, Social Studies, and Advanced Placement. Aspiring athletes can now use the comprehensive Red Comet online learning curriculum to meet the requirements for establishing the initial-eligibility certification status for high school student athletes wishing to compete in college.
Red Comet is a Fully Accredited (NWAC, AdvancED) organization that has been offering online courses for credit since 1999. Students have over 175 courses to choose from. Many of these courses are also approved by the NCAA organization. In the State of Washington, the Office of Superintendent of Public Instruction (OSPI) has approved the Red Comet program as a "Multi-District Online Provider," "Online Course Provider" and "Online School Program." In a statewide survey, Red Comet received high ratings for student satisfaction. Students use the Red Comet online program for original credit, credit retrieval, and credit recovery.
For Immediate Release
Contact Information:
Ms. Sapna Ganeshan
President,
Red Comet
1-888-730-1101