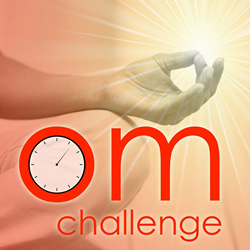 'Let us create peace inside ourselves and peace in our world.' - Sister Jenna
Los Angeles, CA (PRWEB) September 05, 2014
The House of International Media partners with the America Meditating Radio Show to announce a new challenge and a call for peace with the "OM Challenge for Peace," beginning on September 6th at Bhakti Fest, in Joshua Tree, CA.
Everyone's talking about the ALS "Ice Bucket" Challenge, supporting a great cause with powerful intentions, and many people have participated in this tremendous global initiative to raise funds and awareness for ALS research.
Now, the House of International Media, in partnership with the America Meditating Radio Show, is offering a SOUL challenge - one that takes a big heart, big lungs and big LOVE.
The idea of the OM Challenge is to take ONE, really deep breath and chant "OMMMM" for as long as one can without taking another breath - up to 60 seconds, or even more. Everyone is asked to take this simple, yet soulful challenge to collectively raise awareness of inner and world peace. Then, nominate someone and donate to support local and global peace initiatives such as Pause for Peace In Classrooms, Kites for Peace, Pause for Peace Plaques, Dance for Peace, and Cooking for Peace.
The OM Challenge for Peace kicks off on September 6, 2014, at Bhakti Fest in Joshua Tree, CA, and will be launched by Vishal Hiraskar, Executive Director of the House of International Media and Sister Jenna, host of the America Meditating Radio Show (an international radio show featuring celebrities, thought leaders, politicians and everyday folks who aspire to live a fulfilling life).
OM Challenge Launch - Saturday, September 6, 2014 at 4 pm, BHAKTI FEST at Joshua Tree Desert Retreat Center, 59700 29 Palms Hwy, Joshua Tree, CA 92252
Who will participate? Anyone who breathes.
OM, NOMINATE, DONATE. Text 41444, keyword "OM"
Participants are urged to videotape themselves to let the world know their peaceful intentions and challenge friends to "OMmm Out" them. Donations are encouraged and accepted through the OM Challenge Community page on Facebook, or by texting 41444, keyword OM.
The ancient, universal chant of OM is primordial and connected to everything in nature. It has been scientifically proven to create a sense of inner peace and calm… Now, one can upload OM video clips to Facebook, post the OM Challenge on other social media and pass on the peace digitally.
"Let's have fun," Sister Jenna says, "and let us create peace inside ourselves and peace in our world. How long can you OM?"
Here's how:
Step 1: Get a video camera rolling
Step 2: State your name. Declare "I am taking the OM Challenge for Peace" and donating to support peace programs. Add any other personal reason, if desired.
Step 3: Take ONE BIG BREATH and chant one, continuous "OM" for as long as possible.
Step 4: Nominate 2 or more friends to complete the OM Challenge within 24 hours
Step 5: "Like" the OM Challenge Facebook community page, and help spread the word.
Step 6: Post video on personal Facebook/Twitter and OM Challenge Facebook and tag friends.
Step 7: Make a Donation. Text 41444 – Type keyword: OM and provide information.
Donation Suggestions:
Donate one dollar for each second less than the 60-second challenge, or give any generous donation to help further the cause for peace. NO ICE, or wet clothes, just a peaceful moment…and pass it on.
OM Challenge For World Peace is proudly sponsored by the House of International Media
For more information email: OM(at)houseofinternationalmedia(dot)com
____________________________________
About the Peace Initiatives
Cooking for Peace is a popular event that offers various recipes and meditation techniques.
Pause for Peace in the Classrooms is an educational initiative that invites educators to teach students to "Pause for Peace" during transitional times in the school days. The intention is to provide a "TIME IN" to reduce students' stress and anger, and increase attention and positive response toward themselves and others. Volunteers visit schools and provide staff and/or students with an introduction of "Pause for Peace APP" as well as supportive materials to get started.
Pause for Peace Plaques. Declare an office or business a "Pause for Peace Space," and a representative to present a beautiful, official Pause for Peace Plaque. When we value peaceful thoughts, we value our world and each other.
Kites for Peace. A heartwarming initiative for children of all ages, bringing peace and happiness to the whole world one kite at a time. What if peace is as simple as flying a kite?
Dance for Peace. Peace is not a sitting-down affair. Rather, it's a quality that we bring into our actions. Dance for Peace reminds us of this truth and puts our essential beauty into rhythm and motion.
# # # #
Press Contact:
Vishal Hiraskar
House of International Media
dc(at)houseofinternationalmedia(dot)com
443-898-2297