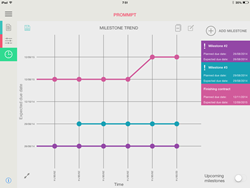 For the project manager it is like having an expert, trusted mentor available on your iPad at all times.
Frankfurt, Germany (PRWEB) September 03, 2014
While many project management Apps have focused on enabling collaboration between team members and task management, the newly launched Prommpt goes further to make it possible to create an entire, personalized, mobile project management environment on the iPad. Prommpt is distinguished by being conceptualised and developed by an experienced project manager who knows just what is needed when it comes to the management, monitoring and planning of any kind of project.
The App is a comprehensive suite of finely honed, integrated tools that started with the release of a free project health check that is used to assess the current status of the various project dimensions. The health check module guides the user through the project planning process, issues alerts on key areas that require attention and action, keeps track of performance, and provides diagnostic assessments so that project planning can be improved over time.
New Prommpt modules have just been launched which will enable thorough management, monitoring and planning against a sound project management tool that will ultimately include quality, time, cost, risk, procurement, stakeholders and communications management. Data that is collected is distilled into effective, stylish graphics that can be used to discern the status of any aspect of a project at a glance, as well as providing a comprehensive overview of multiple projects for the busy project manager. The App generates clear, intelligent project reports which can shared via email and translate well into presentation slides for clients, donors and other stakeholders. Alerts focus attention on areas of risk and under-performance, enabling the user to take quick action to avert unwanted costs and delays, or to adjust project plans in real-time to meet project goals.
"For the project manager it is like having an expert, trusted mentor available on your iPad at all times," comments the author and owner of Prommpt, Marco Angermeier, "Your choice of modules allows you to build a mobile project management environment that is most relevant to you. It is simple and easy to input your project data. The App benchmarks all project activities against a best practice template, alerts you to pay attention where necessary and guides you on what action to take in any area where there is risk or low performance. By highlighting the weaknesses across all the knowledge areas of a project, the App is expertly coaching you towards overall optimum project management performance. The integral Earned Value Analysis, which is tracking on-going value creation against plan and costs empowers you to make informed decisions. Over time, you benefit not just by keeping your projects successfully on track, but by continuous learning that enhances your professional project management skills."
Prommpt enables a tremendous amount of project data to be seamlessly collated and organised. It serves as a convenient, rich repository of all project information which can then be effortlessly assigned to relevant, neat 'snapshot' reports in specific knowledge areas. With Prommpt on the iPad there will be a noticeable reduction in the need for complex, extensive and tedious spread sheets, which enables project managers who are on-the-go to conveniently and quickly access and share a wide variety of important project information via their iPads.
For more information, please visit http://www.prommpt.com
About Prommpt.com:
Prommpt.com was established by Marco Angermeier with the intention to make project management easier in the day-to-day business. Marco has more than 14 years of professional experience as project manager on large-scale construction and infrastructure projects. He gained a Masters in Civil Engineering in Germany and Masters in Project Management in South Africa, which he earned with distinction. Since 2012, he has served as director of Aproma, a project management and consulting practice based in South Africa and Germany (http://www.aproma.biz)
Marco specialises in front-end planning and managing complex, large-scale infrastructure projects, and has particular skills in the application of the Project Management Body of Knowledge, which is well-known and proven to improve efficiency and quality. Marco is the author and owner of Prommpt, the new and comprehensive project management App.