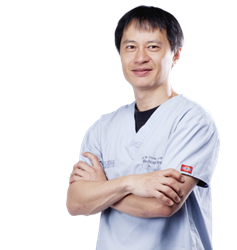 New York City, New York (PRWEB) September 02, 2014
Dr. Chynn, the most famous LASEK surgeon in the world, not only helped invent LASEK, which is 10x safer than LASIK, can safely treat almost everyone who cannot have LASIK, and can fix most LASIK complications—his constant innovations at the forefront of ophthalmology has created these incredible results:
When William Watson, an employee of the Yankees and Knicks, walked into Park Avenue LASEK's practice two months ago, he had lost all hope. Having been blinded in his left eye two decades ago because of a football accident, he had a totally white, scarred eye without a pupil or iris, so disfiguring that he always wore a hat and shades to avoid eye contact because of his "scary appearance." William was resigned to living the rest of his life without even letting anyone take his picture because he was self-conscious. Then he met Dr. Chynn.
William noticed PAL's "all-glass operating room" (the only one in the country) when we was walking by, watched a live LASEK from the sidewalk, and came in. Dr. Chynn immediately told him that he could not make that eye see again—but that he could change his life. Only a handful of eye surgeons in the US know how to perform a true corneal tattoo—not injecting a clump of dye into the cornea (which would only make a blotchy pupil), but to hand-craft and match the other iris exactly, using a specialized tattoo machine, to make it so realistic the casual observer wouldn't be able to tell which was the blind eye. Dr. Chynn learned this technique from Doyle Stulting, MD, PhD, Past President of the American Society of Cataract and Refractive Surgery, who was his preceptor during his Fellowship in Corneal Transplantation and Refractive Surgery at Emory University.
The operation involved many steps over several days, including removing the scar with a metal blade, dissolving calcium with EDTA, polishing the surface with a micro drill to prepare the surface—and finally using a special, very fine tattoo needle, and adjusting the settings for the minimum speed and length of needle travel so as not to perforate the eye (the cornea is only 0.5 mm wide).
One month after his corneal tattoo, which was covered by Discovery Channel, William visited his family down South, and they all cried at seeing him look "normal" and happy and confident for the first time in his life.
Dr. Chynn also made history and changed another person's life this month—by taking his "perfect" vision and giving him "bionic vision." Mark Callanan was a volunteer patient liaison for 6 months, and saw hundreds of people see better than 20/20 after HD LASEK™. One day Mark asked Dr. Chynn about getting lasered so he could see better than his 20/20. Every LASIK surgeon on the planet told Mark no, because there was a significant risk that they would make his vision worse, not better. But because LASEK is non-invasive, it's 10x safer than LASIK, so safe that it's safer even than long-term contact use, so safe PAL has an "all-glass OR."
Dr. Chynn let Mark see exactly how he would see after his HD LASEK™ using the VISX PreVue Lens system, which he had written about in the Journal of Cataract and Refractive Surgery. This system allows anyone to take home a custom lens, look through it, and experience just what it's like to see better than they ever saw in contacts and glasses, and better than 20/20.
Mark looked through his PreVue lens, and saw sharper than he had ever seen out of that eye in his entire life. "Sign me up!" he said.
Dr. Chynn was so confident that he would make this 20/20 patient better than 20/20 that he let Mark record and narrate his entire procedure with a GoPro camera strapped to his head, and stream it LIVE on the internet—just to show people how easy and painless LASEK is. Mark is now seeing 20/10 -- which is TWICE as good as a "perfect" 20/20.
Dr. Chynn has always had a penchant for helping those in need that goes above and beyond his call of duty as a doctor. Because Dr. Chynn was an intern who helped the WTC victims the 1st time it was bombed in 1993, he decided to go down to WTC when it was attacked on 9/11--therefore he was the 1st doctor to arrive at Ground Zero on 9/11. He set up the 1st ER in a Burger King with the mayor's office, and the 1st triage center in a Century 21 with the FDNY Battalion Chief. Dr. Chynn's photographs were displayed in SoHo and traveled to Europe as part of the http://www.HereIsNewYork.org
Dr. Chynn came down with permanent asthma from volunteering at Ground Zero for 2 weeks, and wishes to support the other 1st Responders, who similarly sacrificed to help their fellow New Yorkers. Therefore, for the rest of 2014, Park Avenue LASEK will treat 9/11 1st Responders at $1,000 off, and also donate an additional $1000 to the 9/11-related charity of their choice.
For more information about any of these incredible procedures, or his unique Eye Jewelry that was featured on Fox News, or the 1st responder 9/11 special, visit http://www.ParkAvenueLASEK.com or call (212) 741-8628