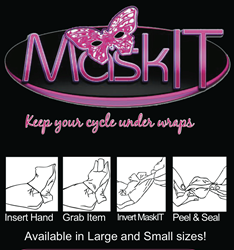 At the core of MaskIT LLC is a desire to do good, be good, and spread good,
(PRWEB) September 02, 2014
"At the core of MaskIT LLC is a desire to do good, be good, and spread good," says the founder and inventor of MaskIT, Shallan Ramsey. Two years ago Shallan had an idea that would change her life, and impact the lives of women everywhere by solving a problem that has plagued women for ages: Disposing of their soiled feminine hygiene items. The first working prototype of MaskIT was made the next day out of plastic, tape, and a whole lot of ingenuity. After two years of hard work, persistence, and perseverance Shallan can proudly share MaskIT with the world.
MaskIT is a new innovation that provides a discreet, simple and sanitary method of disposal for used feminine hygiene items. MaskIT LLC strives to provide this practical solution and added daily convenience in an environmentally conscious manner. They are driven to create jobs in the USA by introducing this unique product into the market.
When asked what makes MaskIT different or more special, from copycats likely to follow, Shallan answered, "The foundation of MaskIT is what differentiates MaskIT from other companies or brands. Although we are trying to build a successful business, it's about way more than money to me. MaskIT is ultimately a reflection of myself, and so I make business decisions I feel good about." She said, "Even if that means paying 5 times more in materials to use compostable biofilm or twice as much to manufacture in the States."
To find out more about MaskIT go to http://www.MaskIT.us where you can contact them, see the product line, read Shallan's bio, and check out videos on "Why you need MaskIT". If you think MaskIT is awesome Like their Facebook page and spread the word. And ladies, always remember to Keep your flow on the down low.
~Official Product Launch September, 2014~