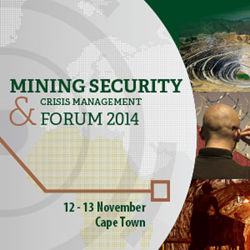 It's an IRN Summit!
London (PRWEB UK) 2 September 2014
Security and Crisis Managers across Africa are on high alert in light of the deadly outbreak of Ebola currently blighting many states in West Africa, along with a growing number of countries in Central and East Africa.
Mining companies must carefully consider their duty of care and safety of their employees during an outbreak, principally those with employees from overseas and particularly companies mining in the worst affected countries, such as Liberia, Sierra Leone and Guinea. The Ebola outbreak, which has between 55%-90% mortality rate, will inevitably hamper production at a number of mines over the coming months. The West African iron ore industry is already struggling under the combined effect of the health emergency and depressed iron ore prices, as are many other mining sectors at present.
The first day of the Mining Security and Crisis Management Forum 2014 will host a highly topical panel discussion on the challenges around disaster and crisis management, with panellists from Vale and Herbert Smith Freehills, amongst others. There will also be a presentation on the second day on Crisis Management, including the issues, challenges and key success factors; this will be followed by a Mozambique crisis management focused case study.
The Mining Security & Crisis Management Forum will be held in Cape Town on the 12th-13th November 2014 and will gather mining Security and Crisis Management experts to examine all current security concerns affecting the mining industry across the globe. The event is supported by the Security Association of South Africa (SASA) and Exxaro Resources Limited.
More information about the forum is available on the website: http://www.miningsecurityforum.com