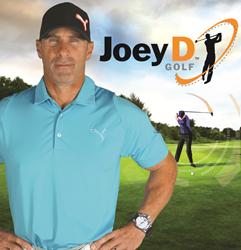 I'm excited to welcome players at all levels into a dedicated Tour-style environment to optimize their body for golf and watch the results happen!
Jupiter, FL (PRWEB) September 11, 2014
Jupiter, Florida is not only one of the leading hubs of professional golf, it's home to the golf fitness and training headquarters of renowned biomechanics coach Joey Diovisalvi -- "Coach Joey D" Diovisalvi as he's known around the PGA Tour. The Joey D Golf Performance Center features over 10,000 square feet of game improvement tools, equipment, and practice areas, including indoor driving ranges, putting greens, short game practice area, and equipment fitting.
Coach Joey D modeled the Performance Center after the facilities the pros use at PGA Tour stops. "I wanted to create a dedicated environment for touring professionals and committed players alike to discover and develop their bodies for golf, improve their game, and have more fun," says Joey D. "Improvement requires a commitment of time, energy, and resources. I believe players deserve a facility that's as committed to game improvement as they are."
The Joey D Golf Performance Center features memberships for locals, destination training retreats for players, and continuing education seminars and workshops for industry professionals. Throughout the month of October, the Performance Center is offering complimentary mini-workshops, tours, and presentations.
=======
Diovisalvi is an expert Tour-level biomechanics and golf fitness coach with over 15 years experience working with players like Keegan Bradley, Pat Perez, Vijay Singh, Rickie Fowler and more. He is the author of "Fix Your Body, Fix Your Swing" (St. Martin's Press).
joeydgolf.com was founded in 2010 to provide golfers with golf biomechanics instruction and training.