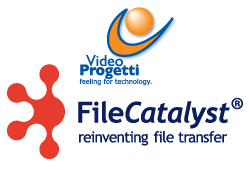 Providing FileCatalyst to our customers continues to keep our organization on the leading edge
Ottawa, Canada (PRWEB) September 03, 2014
Unlimi-Tech Software, Inc., a pioneer in managed file transfers and the creator of FileCatalyst, a world leading accelerated file transfer solution, is pleased to announce a new channel distribution partnership with Italy based Video Progetti.
Video Progetti has more than 20 years experience supplying and integrating solutions for clients ranging from large broadcasters to smaller service providers. By keeping up-to-date with the latest IT, telecommunications, and entertainment market trends, the company establishes themselves as an integral part of a global distribution network for some of the most respected brands. Combining this role with the company's technological know-how, provides an efficiency in every kind of broadcasting project from planning stage to completion. Additionally, the company supplies a wide range of products and solutions for post-production houses.
Video Progetti will offer FileCatalyst's patent-pending UDP based accelerated file transfer solutions to its customers in television, digital cinema, and telecommunications, with support and consultation services.
"Providing FileCatalyst to our customers continues to keep our organization on the leading edge," said Stefano Grego, Sales Director at Video Progetti. "It is essential to us to offer the best and we're able to achieve that by partnering with FileCatalyst. We're excited and know our customers are as well."
"We're thrilled to have Video Progetti supplying FileCatalyst as they are a leading supplier with a well respected reputation," said Unlimi-Tech's Vice President of Business Development, Alan Atkinson. "Video Progetti's work with those in the media, entertainment, and telecommunications industries gave us the confidence this partnership was the best decision."
About Unlimi-Tech
Located in Ottawa, Canada, Unlimi-Tech Software is the creator of FileCatalyst, a world leading accelerated file transfer solution. Founded in 2000, the company has more than a thousand customers in media & entertainment, energy & mining, gaming, and printing, including many Fortune 500 companies as well as military and government organizations. FileCatalyst is an Emmy Award winning software platform designed to accelerate and manage file transfers securely and reliably. FileCatalyst is immune to the effects that latency and packet loss have on traditional file transfer methods like FTP, HTTP, or CIFS. Global organizations use FileCatalyst to solve issues related to file transfer, including content distribution, file sharing, and offsite backups. To learn more visit http://www.filecatalyst.com or @FileCatalyst on Twitter.
About Video Progetti
Video Progetti s.r.l. is a leading Italian company with twenty years successful distribution and integration of professional equipment for Television, Cinema and Telecommunications. With offices both in Rome and Milan, Video Progetti is constantly in touch with the key players in the field and participates to the development of broadcast industry by offering in Italy the latest production technology. Clients are Television Networks, Pay Televisions, Telecommunications Carriers, and Post Houses including Sky Italia, Sky Sport, RAI, Mediaset, Telecom Italia, Fastweb, and Emirates Broadcasting Company.