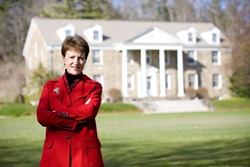 While the mission may be timeless, the outworking of that mission changes with each generation
HOUGHTON, NY (PRWEB) September 02, 2014
Contrary to current trends in higher education, Houghton's incoming class is 10 percent higher than last year. This increase confirms Houghton's ongoing commitment to the relevance of a Christian liberal arts degree for long term success in the global and ever-changing job market of the 21st century.
"Here at Houghton, we are committed to the increasingly countercultural idea that the mission of high quality, globally engaged Christian liberal arts education is more relevant than ever in the 21st century," commented Shirley Mullen, president of Houghton College. "While the mission may be timeless, the outworking of that mission changes with each generation. We are in the process of updating curricular and co-curricular programs that help students and parents 'translate' a Houghton education into the terms of their questions and the circumstances of today's market."
In the coming week, Houghton will launch the Fleming-Farver Vocational Opportunities and Career Advising (VOCA) Center, an office that will offer students and alumni lifelong assistance in aligning educational experiences with post college employment goals within God's calling on their lives.
The VOCA Center will intentionally engage students to think about their future and to develop a life plan that integrates God's calling with their unique passions, skills and attributes. By utilizing a comprehensive four year plan, the VOCA Center will prepare students to move forward into the world equipped with the flexibility of a liberal arts degree and the skills necessary to achieve lifelong goals and dreams.
Houghton has also developed new programs that are built upon Houghton's historical strengths, ensuring that they are outcome focused, calling- and career-oriented, while addressing emerging niches in the work-scape and the ever changing marketplace.
During the 2013-14 academic year, the college reviewed every academic program based on the following criteria: history and mission fit, demand, quality, size and productivity, and cost.
Recently added programming such as international development will be bolstered, and current academic offerings such as social entrepreneurship along with computer and data sciences are preparing and enabling students to immediately enter the workforce in some of the nation's fastest growing job fields.
Other existing programs are being improved upon to best meet the students' needs, such as adding a new commercial music program, music industry, to the foundational and historically classical music offerings of the Greatbatch School of Music.
"Our strong foundation of core skills, exploration across the disciplines, expertise in major fields, and experience outside the classroom prepares students to meet the challenges of work and life," said Linda Mills Woolsey, academic dean. "While preparing for the future includes offering new majors, we will continue to focus on the individual attention and challenge, spiritual support, and hands on experience that gives students confidence to face a changing world."
This process of planning for the future reaffirms many of Houghton's long established strengths – Global engagement, pre-professional preparation, duel strengths in the arts and sciences with special emphasis on innovation as well as revealing new opportunities for linking traditional disciplines to a changing marketplace.
Throughout the process of planning, Houghton has remained committed to its mission to provide an academically challenging, Christ-centered education in the liberal arts and sciences to students from diverse traditions and economic backgrounds and equipping them to lead and labor as scholar-servants in a changing world.