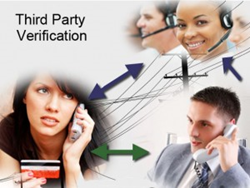 HOLLYWOOD, FLORIDA (PRWEB) September 10, 2014
CallCenterPros.com is pleased to announce the success of their latest service offering: Third Party Verification Services. It has been widely accepted with great enthusiasm by the industry, and management wants to say "Thank-You". The company reports that they offer both Automated and Live-Operated verification services. Clients are assigned a seasoned account executive, and all third party verification operators receive an exhaustive training regimen. This is one call center that is open 24-hours a day, 365-days a year. Their staff is trained on the client's script, learning to recite it in a clear-voice, professional and personal manner before ever picking up the phone, according to a company spokesperson.
During live party third party verification at CallCenterPros.com, all calls are recorded and available for instant playback. They also offer transcriptions, and detailed call center reporting. Verifications per hour, time on the phone, and time to answer are aspects of Feedback that help refine the service. Automated Third Party Verification Services are executed on a platform that is continuously tested to ensure that calls always go through. CallCenterPros helps to create the script and options, as well as Guaranteeing full compliance. Changes to the script can be made at a moments notice.
All transactions are recorded and made available on an immediate basis via the phone or over the world wide web. The clients dashboard is user-friendly and makes report retrieval a simple matter. For many businesses, Third Party Verification is a critical function. The company stresses the value of outsourcing verification services to a professional firm, as opposed to trying to do it in-house with only partially trained staff. The resultant bottom line is much higher when this vital service is outsourced. CallCenterPros.com features many unique services, such as: Intuitive record keeping and storage, Affordable tiered pricing, No Monthly Minimums, No setup fees, Quick script changes, and Recorded transactions with instant retrieval.
For complete information, please visit: CallCenterPros.com
Media Contact:
CallCenterPros
Attn: Media relations
211 S.State Rd. #7
Hollywood, FL 33020
800.789.CALL
info(at)callcenterpros(dot)com