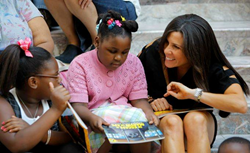 Our annual Read-a-thon is one of the Brooke Jackman Foundation's most rewarding events, and a way to honor my sister, Brooke, and those who lost their lives on September 11th
New York, NY (PRWEB) September 02, 2014
To commemorate the 13th anniversary of 9/11, the Brooke Jackman Foundation (BJF), a children's literacy organization that has donated more than 200,000 books to children and families in need since its founding in 2001, will host the 5th Annual BJF Read-a-thon on Saturday, September 6, from 1 – 2:30 p.m. at Barnes & Noble Tribeca. Featuring special guest readers, including NY Fire Commissioner Daniel Nigro, this free public event for children and families will celebrate the positive, transformative power of literacy.
Commissioner Nigro will be joined by some of New York's Bravest from the FDNY and celebrated children's author Stephanie Calmenson. Broadway actors from the Screen Actors Guild Foundation BookPALS (Performing Artists for Literacy in Schools) will also be on hand to lead theatrical readings, including Gisela Adisam, National tour of Sister Act; Nicole Riding, Hale Center Theater Orem's Crazy for You; and Antoine L. Smith, National tour of Cinderella and Original Broadway production of Memphis. Rosemonde Pierre-Louis, Commissioner of the Mayor's Office to Combat Domestic Violence, will also join the Read-a-thon as a guest reader.
To celebrate more than a decade of instilling the love of learning into thousands of children throughout New York, BJF will also debut the third book in its ABC compilation series, ABC Food, Family & Me, a collection of narratives and illustrations about food and family written by the talented children of the Brooke Jackman Foundation. The Foundation's newest book accompanies the launch of Brooke's Cooks, a new initiative to promote literacy, learning and family, while encouraging healthy living among at-risk children in the New York City area. Within this book, young readers will find stories about favorite foods and fun mealtime memories, along with healthy eating tips and recipes that children can make and enjoy with their families.
"Our annual Read-a-thon is one of the Brooke Jackman Foundation's most rewarding events, and a way to honor my sister, Brooke, and those who lost their lives on September 11th," said Erin Jackman, executive director of the Foundation. "We're also thrilled to debut ABC Food, Family & Me, which embodies my sister's spirit and celebrates our work to encourage children to live a literate life. Brooke and I loved cooking together and spending time with our family over delicious meals. It is our hope that every child who reads this book will be inspired to create a similar tradition with their own family."
The 5th Annual BJF Read-a-thon will take place on Saturday, September 6, from 1 – 2:30 p.m. at Barnes & Noble Tribeca (97 Warren St). For more information, visit brookejackmanfoundation.org.
About the Brooke Jackman Foundation
The Brooke Jackman Foundation was created in 2001 to honor Brooke Jackman, a bright and compassionate 23-year-old who was killed in the 9/11 terrorist attacks before achieving her dream of becoming a social worker. Brooke was an avid reader, and her passion and commitment to literacy and helping children spurred the Jackman family to create BJF as her living legacy – turning tragedy and despair into hope for a better world. Since 2001, the Brooke Jackman Foundation has donated over 200,000 books and over 20,000 Brooke Packs, backpacks filled with books and school supplies, to children and families in need. BJF has established four libraries, as well as a number of after-school literacy programs, in all five boroughs, including homeless shelters and Family Justice Centers for victims of domestic violence and crime in Brooklyn, Queens and the Bronx. The annual September Brooke Jackman Foundation Read-a-thon celebrates the resiliency of New York and its children. Visit http://www.brookejackmanfoundation.org.