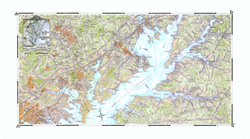 New York, NY (PRWEB) September 04, 2014
Coastal Art Maps, a company run by a talented New York-based map-maker, is delighted to introduce the latest additions to their growing collection of stunning, hand-drawn maps. The company has just released the first three of a projected 10 maps depicting the Chesapeake Bay, the iconic inland sea that spans Maryland and Virginia for 150 miles.
The first map in the Chesapeake Bay collection includes a depiction of Havre de Grace to Middle River. The northernmost areas highlighted on this map include the towns of Havre de Grace, Aberdeen and Essex, as well as Interstate 95 and the railroads where they cross the water and peel away to the west. The second map in this new collection spotlights the next section moving south - Middle River to Sandy Point - where the great sand-bottomed bay starts to widen, including part of the bordering Baltimore metropolis and the classic towns of Chestertown and Rock Hall. The third map showcases Sandy Point to Herring Bay, representing the heart of Maryland's portion of the bay. This map includes the boating capital of Annapolis, the William P. Lane Memorial Bridges leading to Kent Island and Stevensville, and the eastern shore hubs of St. Michaels and Easton. Each of the Chesapeake Bay maps is oriented horizontally to show the contrast between the more densely populated western shore and the sparser, more bucolic eastern shore.
"This collection of maps portrays the Chesapeake Bay, a great body of water, in all its complexity. I've illuminated how the bay changes over its length, including major seaports, great rivers and an elaborate network of roads and rails that tie it all together," explained artist Joseph S. Tarella, Owner of Coastal Art Maps.
Tarella has captured the beauty of the Chesapeake Bay area - as well as other stunning East Coast beaches - through his breathtaking, hand-drawn artwork. Each map represents a moment when an ever-changing world is briefly frozen in time. Tarella uses the time-honored tools of pen-and-ink and watercolor washes on vellum, resulting in an extraordinary tactile quality not easily achieved using more modern, mechanical methods.
"I've captured the unique beauty of this mid-Atlantic shoreline, where people spend idyllic days boating, crabbing, visiting the beaches, and spending time in the lovely towns along the bay," Tarella continued. "These maps will make treasured keepsakes for beach or boating enthusiasts, nature and nautical lovers, sportsmen or anyone who has spent precious time in these beloved locales. The maps - singularly or as a collection - make special, memorable gifts for the holidays, and to commemorate birthdays, weddings, anniversaries, graduations and other special occasions."
The first three Chesapeake Bay maps were just launched, and the next group is expected to be available in the Spring of 2015.
Tarella started Coastal Art Maps as a hobby. He liked maps and traveling, and when he built a house on Long Beach Island, he couldn't find any maps of the area that he liked, so he created his own. Friends and family loved his colorful hand-drawn maps and wanted their own versions. Tarella's labor-of-love company evolved from there.
Artist Joseph Tarella offers a series of limited-edition art maps of selected coastlines, including the New Jersey shoreline that was damaged during Hurricane Sandy. Each map presents an elegant, detailed and accurate rendering of selections of East Coast land areas, highlighting their juxtaposition and relationships between land and water, islands, parks, roadways, and other significant elements. These comprehensive and beautiful ink-and-watercolor compositions, offered on full size giclee canvas or half-size watercolor paper, make truly unique and satisfying acquisitions.
Tarella combines his architectural experience, passion for travel and love of map-making to create stunning maps of East Coast beaches. Coastal Art Maps currently has 24 different maps in circulation, depicting areas including the New York, New Jersey, Massachusetts, Maryland, Delaware and Florida coastlines. Tarella, a trained architect and co-owner of SawickiTarella Architecture+Design PC, also customizes maps, identifying specific locations, per customer request.
For more information, please visit http://www.coastalartmaps.com.