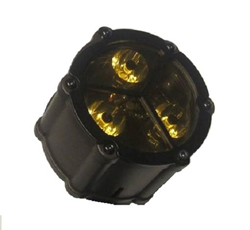 Orlando, FL (PRWEB) September 02, 2014
Shades4LED has released its one-of-a-kind Lens Retainer, a reliable and easy-to-use product that secures colored filters in place to LED landscaping accent lights.
Shades4LED is a unique product that is the only one of its kind. Typical LED Landscaping lights usually offer one color of light. However, The Shades4LED Lens Retainer product allows a consumer to alter the light color cast by their Kichler brand Design Pro 12V LED Landscaping Accent lights by providing a specific mechanism to retain Gel/Mylar filters in place while making color changes a snap and with ease.
Shades4LED work best for home use and/or commercial use. These products allow consumers to light up their gardens, homes and lawns in different colors and without the hassle of using tape to attach a colored lens-filter.
The Shades4LED Lens Retainer product was developed and patented here in the United States based on Kichler Design Pro 12V LED Accent lights. Currently there are no other products on the market that provide this amenity.
About Shades4LED
Shades4LED Lens Retainer products were brought to fruition because of a need to alter the light color of Kichler Brand Design Pro LED Accent Lights. They have accomplished this by retaining the light filter in place and making future color changes a snap and with ease.
Since resellers and installers of Kichler Brand lights have indicated the only way to do this was to use "tape." Enter our Lens Retainer Solution.
Our products offer a much easier and more professional approach. Please be aware, Shades4LED is not affiliated with Kichler, or any of their enterprises. We are just a small company attempting to make life simpler. For more information, please visit, http://www.shades4led.com, or email info(at)shades4LED(dot)com, for any questions or concerns.