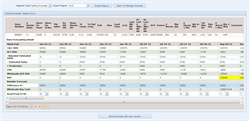 These enhancements of our already feature rich Forecasting Software enable the process to be managed more easily and are massive time savers - Jim Lewis, Founder and CEO of Enhanced Retail Solutions
New York, NY (PRWEB) September 03, 2014
Enhanced Retail Solutions(ERS), a leading provider of Software-as-a-Service (SaaS) retail analytic and demand planning solutions to suppliers, licensors and their retail trading partners, today announced four major enhancements to its Demand Planning Software:

The ability to create forecasts at style-level in addition to item (e.g.: color, size) level.
The ability to create multi-retailer forecast for same items/styles sold to different retailers for cases where manufacturers plan total wholesale inventory needs by item regardless of retailer. This allows manufacturers to project total needs across all retailers, and then allocate to them according to their individual needs.
Auto forecast feature - checking the "auto" box when creating a forecast enables it to run automatically each week and save a version. Results can be viewed to a client's specification in ERS' Business Intelligence tool or emailed automatically. Exception reports and dashboards can be created for items that need buys or for total needs.
The system can automatically fill in default parameters by company (such as lead time, weeks of supply model and sales curves). This enables the system administrator to pre-set parameters to make first time set-ups quicker.
"These enhancements of our already feature rich Forecasting Software enable the process to be managed more easily and are massive time savers," said Jim Lewis, Founder and CEO of Enhanced Retail Solutions. "We thank our clients for their help in specifying these additions."
About Enhanced Retail Solutions LLC:
Enhanced Retail Solutions is a software and consulting firm specializing in Retail Analysis and Demand Planning for manufacturers, licensors and their retail partners. ERS' state of the art software tools and consulting deliver critical data quickly, easily and cost effectively, adding over one hundred million dollars to their clients' bottom line. ERS' broad customer base includes industry leaders in the electronics, consumer products, apparel, footwear, home textile, toy, home décor, home improvement, housewares, jewelry and food industries. Headquartered in New York City, Enhanced Retail Solutions has offices in the Dallas, TX and development in the US, Cork, Ireland and Delhi, India. For more information, visit http://www.EnhancedRetailSolutions.com.