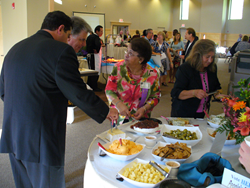 "Mature Services continues to keep pace with the changing needs of older adults since 1975."-Linda Valentine, President & CEO of Mature Services, Inc.
Akron, OH (PRWEB) September 04, 2014
A great ethnic food tasting event cannot happen without the support of local restaurants, and the 10th Anniversary of "The Melting Pot ~ A Taste of Many Nations" is fortunate to have the best. The line-up of participating restaurants includes Angel Falls Coffee Company who is bringing coffee and tiramisu, Saffron Patch cooking up Lamb Korma with Saffron Rice, while Village Gardens Restaurant & Pub will be serving Chicken Vlaki, Aladdin's Eatery will be whipping up Lebanese salata with quinoa, with Jasmine's Favorite serving hummus and tabouli, and The Stew Pot will be serving chili and cream cheese tortelleni. They join the North End, Mustard Seed Market & Café, Wally Waffle, TLC Catering and Niko's Sandwich Board in providing food, with the music of "Just Friends Quartet" creating the perfect atmosphere.
Allan Fee of Q104 will be returning as the Emcee for the night, and guest judges will award prizes for Best Tasting, Most Authentic and Best Presentation, while the attendees will select a People's Choice winner. "In addition to celebrating our 10th Anniversary of this event, the agency is also about to celebrate 40 years of service to the community," said Linda Valentine, President and CEO of Mature Services, Inc. "A lot has changed over the course of time, and Mature Services has been keeping pace with the changing the needs of older adults and those with disabilities to ensure they can maintain their independence."
"We would also like to credit our event sponsors ADM Board (Alcohol, Drug Addiction & Mental Health), EBI (Employee Benefits International), Bober, Markey & Federovich, ComDoc, SummaCare, AT&T, Brennan, Manna & Diamond,) Alpha Phi Alpha, Direction Home and Buckingham," added Valentine. "Their generous contributions underwrite the event and allow us to put all the proceeds directly toward our programs."
While noshing during the food tasting, guests will also have the opportunity to participate in a silent auction. A vast array of auction items are up for grabs including a set of four Goodyear Tires, signed novel by author Dean Koontz, one free month of lessons and a free uniform from Zahand's Martial Arts, Whitewater Rafting Adventure Trip for Two from River Expeditions, use of a loge at Canal Park for an Akron RubberDucks game in April/ May of 2015 including a $250 food voucher donated by Brennan, Manna, & Diamond, LLC. and so much more! With so many great auction items, there is something for everyone at every price range, and all those who attend have the chance to bid and win.
The 10th Anniversary of "The Melting Pot ~ A Taste of Many Nations" begins at 5:30 pm on Thursday, September 11th at the St. George Family Center located at 3204 Ridgewood Rd. in Fairlawn, Ohio. Tickets are $60. To make reservations for "The Melting Pot ~ A Taste of Many Nations," simply visit http://www.matureservices.org or call 330-253-4597 x199.
Mature Services is a non-profit organization that has been serving the needs of the older adult since 1975.
###