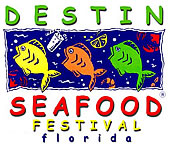 Destin, Florida (PRWEB) September 03, 2014
According to a recent search engine survey, Destin, Florida is #1 on Yahoo's most popular U.S. beaches list. The rare beauty of the quartz-derived sand and emerald waters combined with a constellation of fantastic summer festivals has turned this once sleepy beach town into a "must see" destination in the southeast. September welcomes back the Destin Beer Festival on September 27th from 2 to 5 p.m. The event will feature some of the biggest names in the craft brewing industry, culinary stations, a VIP tent and live entertainment. Proceeds benefit Destin Charity Wine Auction - a fundraiser for children in need. To enjoy the beaches, golf and everything that Destin has to offer, many visitors opt to stay at a Destin beach condo.
Pirate gear, eye patches and swashbuckler accents are more than welcome on the Destin Harbor this September. Since the kids are back in school, Destin has events planned so that little ones can be included in all of the summer fun. International "Talk like a Pirate Day" is scheduled for September 19th from 7 to 10 p.m. at Harborwalk Village. Enjoy live entertainment, interactive pirate shows, games and a fireworks display.
Another pearl in the string of amazing Destin events is the Destin Seafood Festival. Drawing tens of thousands of sun and seafood hungry visitors, this year's installment is set for October 3-5. This three day festival will be full of arts, crafts and of course, delicious seafood prepared more ways than imaginable. A hallmark of the festival is the musical acts that it attracts as well. Each day a star-studded lineup will fill the air with joyous music as visitors fill their bellies with delicious seafood. Showcasing the best that Destin has to offer, the harbor venue provides amazing views of the Destin pass and Destin's famous fishing fleet with brilliant fall sunsets as a backdrop. For overnight accommodations, arrangements can be made at local resorts such as Edgewater Condo.