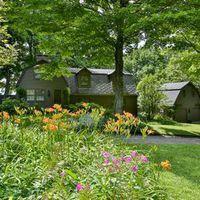 Pompano Beach, FL (PRWEB) September 03, 2014
J.D. Salinger's Longtime New Hampshire Home is for sale and featured this week on the Top 10 Homes Spotlight at TopTenRealEstateDeals.com.
"J.D. Salinger's New Hampshire Home"
Author J.D. Salinger, forever famous for his 1951 book about teenage angst, "The Catcher in the Rye," is one of America's most famous and mysterious writers. After the overwhelming response from critics and fans to "Catcher," much of the book was written during his World War II combat tour as an army sergeant, D-day invader and Dachau Concentration Camp liberator, Salinger disappeared from public life, refused every media request and thereafter published his stories almost exclusively with "The New Yorker." For years, Salinger hunkered down in his Cornish, New Hampshire home, one of America's most popular writers almost totally hidden from public view.
Salinger always claimed that he wrote for himself and found the act of publishing to be quite annoying and disruptive. Oddly, he found his niche in writing about the lives of adolescents in the throes of evolving into "phony" adults. His seemed to be a life unsettled as he jumped from religion to religion - never finding just the right one, and from wife to teenaged girlfriend and back to wife.
During his years of seclusion in New Hampshire, Salinger continued to write, but never published, a series of books that expanded on the lives of some of his most popular characters, including "The Catcher in the Rye." Before he died, Salinger carefully laid out a directive in his will for a publication schedule of the books beginning in 2015.
The Cornish home where Salinger lived, wrote and hid from the 1950s to the 1980s is now for sale. Cottage-like, charming and ensconced in a lush setting of nature on a quiet road in his quest for privacy, Salinger also bought the land on the other side of the road, ensuring that no other house could be built whose owners could gaze into his personal life. It's a secluded 12 acres with plantings of foliage and flowers around trees, paths, woodland trails and green lawn with dappled sunlight. There is also a creek and view of Mount Ascutney over a valley of treetops. The 2,900-square-foot home blends seamlessly with the surrounding woodlands and consists of four bedrooms, two baths, a combined family room-kitchen with fireplace, large living room with beamed ceilings and an apartment above the garage where Salinger would escape during marital conflicts. Another interesting thing about the house is the tunnel that connects the basement of the house with the basement of the garage, the purpose of which was never discovered.
J.D. Salinger's secluded Cornish, New Hampshire estate is now for sale, priced at $679,000. The listing agent is Jane Darrach of Martha E. Diebold Real Estate in Hanover, New Hampshire.
Visit TopTenRealEstateDeals.com for more celebrity, historic, famous and spectacular homes.