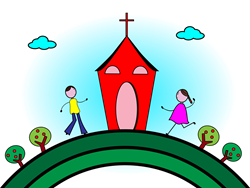 GetUSales' church email marketing campaigns help churches and ministries better communicate with their attendees using Infusionsoft.
(PRWEB) September 03, 2014
Church email marketing has now joined the menu of industry-specific Infusionsoft campaigns offered by GetUSales. GetUSales' Church and Ministry Email Marketing Package makes it easy for churches of all Christian faiths to streamline how they communicate with their members and prospects. Learn more about GetUSales' email marketing package by clicking here.
How do GetUSales' church email marketing campaigns work?
In GetUSales' Church and Ministry Email Marketing Package, there are nine separate campaigns. Each campaign is geared toward a specific audience or purpose. Each campaign comes pre-made with full content that can be customized to fit any church.
These emails are dripped out to church members at pre-determined intervals of time. Keeping a church's name in front of members and prospects regularly will increase their interest in that church – leading to more attendance, greater donations, and more involvement.
Campaigns in the church email marketing package
Church Inquiry – Bring in new members with welcoming messages and important information about the church. This campaign is meant for people who have not yet visited the church, such as website visitors who have requested more information or people encountered during ministry outreach.
Visitor Follow-Up – This campaign is meant for people who have visited the church but are not yet regular members. This email marketing campaign includes important information that new visitors will need to know, such as the service schedule, goals of the church, a free gift, and more.
Church Membership Program – This campaign is meant to keep current members and regular attendees informed and engaged between church services. It includes inspirational messages, class schedules, calls for volunteers, and much more.
Holiday – The Holiday Campaign helps build enthusiasm and attendance for all the church's holiday events. This campaign can be infinitely customized to reflect all holiday parties, plays, etc.
Event – Create a buzz around upcoming events to increase volunteerism and attendance. This campaign even allows guests to register right from their emails.
Teen Module – Get young Christians interested in the church's events and offerings built just for them. Increasing their interest now means they're more likely to stay members as adults.
Conference – Let members know a conference is coming up and get payments and registrations straight from the emails!
Giving/Stewardship – This yearlong campaigns helps drive donations and teaches about the value of stewardship.
Leadership – Leaders are made, not born. Advertise church leadership training and encourage members to take on leadership roles with this campaign.
Fore more information, call GetUSales at 855-834-4850 or visit http://www.GetUSales.com today!