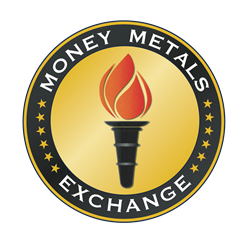 Same Company, More Services, New Name
Eagle, ID (PRWEB) September 04, 2014
Independent Living Bullion, a national precious metals dealer with over 30,000 customers, announced today that it has renamed the company "Money Metals Exchange" in conjunction with release of new services and offerings.
"We've changed our name to Money Metals Exchange because it better reflects what our company has become and where it is heading in the future. But our company's leadership, values, and quality remain exactly the same," said Stefan Gleason, president of Money Metals Exchange.
In addition to serving as a low-cost source for buying and selling precious metals, coins, rounds, and bars, Money Metals Exchange (http://www.MoneyMetals.com) now offers a full suite of services and programs for its customers, including self-directed IRA accounts, secure storage, online precious metals accounts, as well as monthly gold and silver savings plans.
Gleason added, "Everything our customers like about our company is staying the same. We will continue to deliver useful and insightful metals market news, podcast interviews, and thoughtful analysis from the same team of precious metals experts. We remain absolutely committed to fair pricing, speedy delivery, and absolute integrity in all of our business practices."
Founded in 2010, the national precious metals dealer has become known for its no-pressure, approach to dealing with customers, its "white glove" service of even the smallest and newest of precious metals investors, its significant educational content at http://www.MoneyMetals.com, and its expose the unscrupulous dealings of "rare" coin companies that have invited regulatory scrutiny upon the entire industry.
Money Metals Exchange is secure, private, beginner-friendly, and strives to offer customers the most gold and silver for their money. Its services also include high-quality educational content, breaking news alerts, self-directed precious metals IRA accounts, secure storage, and monthly gold and silver savings plans. The company is not a trading exchange, does not use financial leverage, and deals strictly in the physical market on a "cash and carry basis."
If you would like more information about this topic, or to schedule an interview with Stefan Gleason, please call 1-800-800-1865 or send an e-mail to inquiry(at)MoneyMetals(dot)com