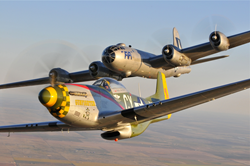 Midland, Texas (PRWEB) September 02, 2014
Mark your calendar now for the CAF AIRSHO, presented by Frost Bank, Oct. 11 – 12. The 51st annual event will be held at Midland International Airport located between Midland and Odessa, Texas.
AIRSHO 2014 will include the West Texas debut of Kyle Franklin's new air show act "Dracula, The Rise of Vacul." Franklin's unique bi-plane and routine is one of the most sought-after acts on the air show circuit. Complementing the high-flying action will be the CAF Red Tail Squadron RISE ABOVE Traveling Exhibit. The exhibit, housed in a custom-designed semi-trailer includes a 160-degree panoramic screen in a 30-seat temperature-controlled movie theater. The "Rise Above" movie highlights the courage and determination of the Tuskegee Airmen, who overcame obstacles to train and fight as U.S. Army Air Corps pilots, and what it means to us today.
"The Best Warbird Show in America" will feature many rare and historic aircraft from the CAF flying fleet, including the World's Only Flying B-29 FIFI, two B-17 Flying Fortresses, Texas Raiders and Sentimental Journey, the Red Tail P-51 Mustang Tuskegee Airmen and reenactment performer TORA! TORA! TORA!
Advanced tickets are $20 for adults and $5 for children ages 6-12. Advanced tickets can be purchased online at http://www.airsho.org. Tickets purchased at the gate will be $25 for adults and $5 for children. Children age five and under enter for free. Parking is an additional $5, with partial proceeds benefiting the Boy Scouts of America. Gates open each day at 8:30 a.m.
Private chalets, sponsorship opportunities and exhibit space at the event's TradeSho are also available. For more information, visit http://www.airsho.org, or call (888) 945-3008.
In 1957, a small group of ex-service pilots pooled their money to purchase a P-51 Mustang, beginning what is now called the Commemorative Air Force (CAF). With the addition of a pair of F8F Bearcats, the CAF became the founders of the Warbird Movement, an effort to preserve and honor our military history with the rallying cry to "Keep 'Em Flying!" Nearly 60 years later, the CAF is the premier Warbird organization, with a fleet of 164 vintage aircraft. A non-profit educational association, the CAF has more than 11,000 members and its fleet of historic aircraft is distributed to more than 80 units located in 26 states. For more information, visit http://www.commemorativeairforce.org or call (432) 563-1000.