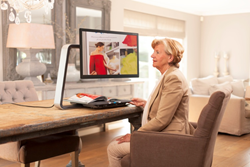 We are committed to provide effective low vision solutions that help people to continue to lead an active and independent lifestyle
VISTA, CA (PRWEB) September 03, 2014
Optelec, U.S. introduces the new ClearView C desktop video magnifier. Worldwide, there are around 160 million people who are visually impaired. As people get older, sight problems become more common. People who are affected by an eye condition such as Diabetic Retinopathy, Glaucoma, Macular Degeneration or Retinitis Pigmentosa can still live independently if they are supported by low vision aids such as a desktop video magnifier.
The Optelec ClearView C has been developed in conjunction with end users. It is the first video magnifier that features a contemporary and sleek design and is built from high quality materials. Equally important, the new Optelec ClearView C provides much more space and comfort to perform daily tasks such as reading a newspaper, enjoying craftwork and writing without restricting the users' movement.
"When we started to develop this video magnifier, we wanted to eliminate the difficulties users experienced with their desktop magnifiers. After extensive research involving our clients, we came up with a completely new design for a more natural reading experience." Maarten Bosch, CEO of Optelec, stated. The new design has another important advantage, Stephan Terwolbeck, President Optelec, US, explains: "There often is an emotional aspect when someone is diagnosed with low vision. People can accept their impairment and adjust their lifestyle and mindset. That's where we come in; we develop cutting edge products for this group to take away the concern they often feel about using a low vision aid."
Thanks to its superior digital video processor, the Optelec ClearView C offers sharp magnified images in high contrast. An optional Speech module allows the user to simply sit back and listen to text as it is read aloud. Best part about the ClearView C is that it is truly customizable to the user's needs. The user can choose from a space saving or wide comfort set-up, high definition or standard camera and preferred monitor size. The ClearView C will be available through Optelec's Authorized Dealer and distribution networks. Call 800.826.4200 or visit http://www.Optelec.com for further information.
About Optelec
Optelec enables those who are impacted by vision loss due to retinal eye diseases such as Age-Related Macular Degeneration, Glaucoma or Diabetic Retinopathy, to remain independent and enjoy life, by reaching out with simple and effective low vision and blindness solutions. Based in the United States, Canada, Netherlands, Belgium, Germany and the United Kingdom, Optelec is the leading distributor, designer and manufacturer of life-changing assistive technologies for people who are visually impaired and blind. Optelec continues to be the global front-runner with a multi-tier distribution in more than 70 countries worldwide. With US headquarters in Vista, CA, Optelec offers a nationwide network for product solutions and low vision rehabilitation. Please visit us at http://www.Optelec.com.