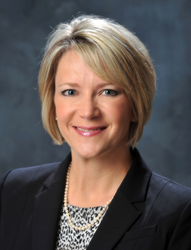 Rio Grande is a unique place, and we found an equally unique leader to serve as our 22nd president.
Rio Grande, OH (PRWEB) September 02, 2014
The University of Rio Grande and Rio Grande Community College has announced the appointment of Michelle R. Johnston, Ph.D., as its 22nd president.
Johnston, the second female president in the 138-year history of the institution, will assume her duties on Monday, Sept. 29 with a three-year contract.
"I am honored, humbled and extremely excited to be joining the ranks of Rio Grande," Johnston said. "The hearts and minds at Rio are focused on students; My interests and passions have revolved around 'students first' through every step of my career. My hope is that this shared purpose will be the springboard from which we reach unprecedented success."
Johnston was selected following a six-month national search by both the URG and RGCC Board of Trustees. Rio Grande formed a joint Presidential Search Commission and hired AGB Search to coordinate the effort, which produced 39 qualified applicants.
Johnston previously served as Senior Vice President for Administrative Affairs at the University of Montevallo in Montevallo, Alabama.
At Rio, Johnston plans to build a more vibrant campus spirit while also expanding external awareness, growing enrollment and increasing philanthropic support. And she believes the makings for each already are present.
"As I experienced Rio Grande up close, I was blown away by the strong leadership and determination among the boards, impressive faculty and staff, community-focused atmosphere, and students and alumni who are making a significant difference in this region and the world," Johnston said. "This particular chemistry makes the possibilities endless for Rio Grande. I can't wait to listen to the campus community and learn about their creative ideas for attracting, retaining and serving students.
"And I want the student body to know that I am available and approachable," Johnston continued. "We are here for a very important purpose – to help students achieve their goals and dreams. Our size and our approach to serving students give us the chance to develop strong, personal connections. This is something very special and unique. I can't wait to get to know our students."
Johnston also has held administrative positions at the University of Louisiana at Monroe, Mississippi State University, Wood College and Phillips Community College of the University of Arkansas. Her 19 years of experience in higher education includes both administrative and faculty leadership positions.
"The presidential search was a collaborative process from start to finish, and that unified effort produced an outstanding leader who will guide Rio Grande to new heights," said Jack Finch, Chair of the URG Board of Trustees and co-chair of the Presidential Search Commission.
"I think Dr. Johnston will be a servant leader with a strong focus on our students; retention, recruitment and just helping each of our students be as successful as they can be," Finch continued. "She is going to be a very hands-on president, very personable and involved with the campus community."
Johnston holds a Doctorate in Educational Leadership from Mississippi State University, a Master of Music from Louisiana State University and a Bachelor of Music from the University of Alabama. She also has post-doctoral work in management and marketing from the University of Florida.
Interim President Paul Harrison will resume his normal role as Executive Vice President and Vice President of Institutional Advancement on Sept. 29. Harrison assumed interim duties when Rio Grande's 21st President, Barbara Gellman-Danley, Ph.D., took over presidency of the Higher Learning Commission.
"Rio Grande is a unique place, and we found an equally unique leader to serve as our 22nd president," said Shawn Saunders, Chair of the RGCC Board of Trustees and co-Chair of the Presidential Search Commission. "Dr. Johnston was raised in a rural community and shares many of the same values that give southeastern Ohio its strength and charm. She also brings a wealth of diverse experience within higher education that will serve Rio Grande, and this region, very well for many years."
Founded in 1876 and nestled in the beautiful rolling hills of southeastern Ohio, Rio Grande serves as an oasis of learning, innovation and technology. The 190-acre residential campus strikes a balance of liberal arts and experiential learning to prepare students for successful lives as responsible citizens in a culturally diverse, global community. An epicenter of cultural enrichment, Rio offers students a nurturing environment focused on the needs of the individual with a student-faculty ratio of 16:1 and a plethora of extracurricular activities ranging from Student Senate to Greek life, and intercollegiate athletics.
For more information about the University of Rio Grande and Rio Grande Community College, visit rio.edu or call 800-282-7201.