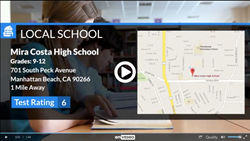 PlanoMotion serves as another channel for potential home buyers to learn everything they want to know and see about a listing in a polished narrated video format
Denver, CO (PRWEB) September 03, 2014
PlanOmatic has partnered with Onvedeo to add video marketing to their suite of advanced tools and technology that provides brokers and real estate agents with a unique competitive advantage in marketing their listings. In conjunction with PlanOmatic's proprietary viewer, PhotoPlan 4, PlanoMotion serves as another channel for potential home buyers to learn everything they want to know and see about a listing in a polished narrated video format.
Like PlanOmatic, Onvedeo provides a platform catered to the goals of real estate agents and brokerages. Onvedeo's proprietary video generation engine combines PlanOmatic's professional photos with all of the crucial data home buyers need in order to make a confident purchase; such as local school ratings, Walkscores & stunning video footage of the areas and neighborhoods surrounding the home. The video also serves as an effective way for agents to set themselves apart in this competitive industry with professional and innovative branding.
"Photography and even floor plans have always been the given need for real estate marketing," says PlanOmatic CEO, Kori Covrigaru. "Onvedeo's elegant videos allow us to take this real estate marketing strategy one step further and provide our clients with a unique, cost effective tool that complements our existing solutions."
"At Onvedeo we are redefining what Video Marketing is with our personalized video technology," says Onvedeo CEO, Boubou Guiro, "Our partnership with the talented team at PlanOmatic will allow us to create engaging video stories from the great photography assets the PlanOmatic team is producing. We believe Onvedeo videos combined with the range of marketing products and services provided by PlanOmatic will make for an unbeatable marketing package for any real estate professional nationwide."
Onvedeo, is a technology company founded in 2012. Onvedeo has created an intelligent and highly scalable video technology that creates fully voiced, localized, and personalized videos using data and other assets such as photos and videos. Onvedeo has the goal of creating a new standard in video marketing that will allow videos to be personalized to each person watching. Onvedeo is currently using its advanced video technology for the Real Estate Market.
PlanOmatic has been a leader in online real estate marketing since 2005. Using the latest in technology, PlanOmatic creates an elegant home tour by seamlessly combining high quality photography with interactive floor plans into a proprietary presentation format. PlanOmatic provides superior service to regions across the U.S. and prides themselves in offering an array of advanced real estate business solutions to meet the needs of agents and brokerages alike for success in this competitive industry. For more information regarding PlanOmatic's suite of services and marketing tools, visit planomatic.com.