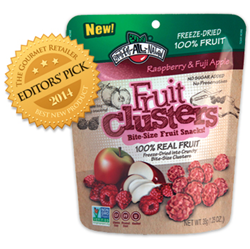 Raspberry Apple Fruit Clusters™ receive The Gourmet Retailers 2014 editor's pick award
Rochester, NY (PRWEB) September 03, 2014
Brothers-All-Natural has received an overwhelming response to their Fruit Clusters™, the newest addition to their family of freeze-dried fruit snacks. The Raspberry Apple Fruit Clusters™ receive The Gourmet Retailers 2014 editor's pick award, which recognizes the best new consumer products judged on innovation, taste, and functionality. Look for the awarded product feature in the August/September 2014 print edition of the Gourmet Retailer or the digital version at http://www.gourmetretailer.com.
In addition to the recent award, the Raspberry Fruit Clusters™ were also selected as a "product hit" by Phil Lempert, the Supermarket Guru, in his New Product Hits & Misses for June 25th, 2014. In his video review on supermarketguru.com, the Supermarket Guru gives the Fruit Clusters an overall score of 86; based on several criteria including taste, nutrition, ingredients, and value. In his review of the product he found the snacks to be "very flavorful and very crunchy" and "a wonderful alternative for kids".
Fruit Clusters™ are gaining popularity for their uniqueness and flavor; they are fruit like you've never had before. These crispy, crunchy fruit snacks made with the best fruits from around the world that have been cut into pieces, freeze-dried, and rolled into a fun, bite-sized "cluster." The Fruit Clusters™ are different from Brothers-All-Natural popular line of Fruit Crisps because they are a blend of fruit, available in Raspberry Apple, Blueberry Apple, and Apple Cinnamon, and unique in texture and crunch.
Like Brothers-All-Natural Fruit Crisps, the new Fruit Clusters™ are 100% fruit, nothing else. Each 1.25 oz. bag of Fruit Clusters™ contains six fruit servings, and is resealable for convenience and anytime snacking. They are gluten free, soy free, peanut/tree nut free, non GMO project verified, vegan, and OU Kosher certified with absolutely no added sugars, additives, or preservatives.
Fruit Clusters are available for purchase at brothersallnatural.com, amazon.com and in various retail stores nationwide, including Costco and Wal-mart. For more information, go to brothersallnatural.com. Retailers and distributors may contact info(at)brothersallnatural(dot)com for further inquires.
About Brothers International Food Corporation
Brothers International Food Corporation is a privately owned food and beverage company based in Rochester, New York with offices in North Carolina, China and Ecuador. The company was founded in 2001 by brothers Matt and Travis Betters, whose family was involved in the processed fruit and vegetable industry for more than 65 years. In addition to supplying top-quality fruit and fruit juice concentrates to a number of Fortune 100 food companies, Brothers International is the parent company of Brothers-All-Natural, producing Fruit Crisps and Fruit Clusters, all-natural 100% fruit snacks, Harvester Farms freeze-dried fruits and vegetables for long term food storage, as well as Fruit & Oats, and Lost Vineyards, importing low-cost wines from little-known vineyards in Europe and South America.