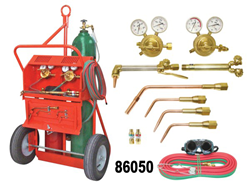 The Rollin' Roughneck is big and tough... and designed for safety.
Fort Lauderdale, Florida (PRWEB) September 03, 2014
The Uniweld Rollin' Roughneck protects and organizes valuable torch equipment. The A-Style utilizes the safest gas mixing system ever developed, "the tip mix". This three-seated tip allows the gases to be mixed in the tip; not in the head or tube. Tip mix is the industry standard for safety.
The solid steel hinged cabinet protects outfit components from theft and damage while allowing quick and easy access to torch equipment and the cabinet door has a locking latch that will accommodate a heavy duty lock to prevent unauthorized use of equipment. See-thru grates also provide an excellent view of regulators gauges but still provide a rugged defense against damage.
Regulators are connected to the cylinder utilizing a heavy duty manifold system in addition to heavy duty Uniweld flashback arrestors that are added to the torch for maximum system safety. The Rollin' Roughneck's cabinet inventory system allows for quick check of all equipment.
Uniweld's Rollin' Roughneck Outfit includes:

1 Rolling Cart
1 Oxygen Regulator
1 Acetylene Regulator
1 Cutting Attachment
1 Cutting Tip (1/2" Capacity)
1 Torch Handle
3 Welding Tips
1 Heating Tip
1 1/4" x 25' Twin Hose
1 Set Torch Flashback Arrestors
1 Shade #5 Goggles
1 Flint Striker
1 CGA510 "POL" to CGA300 "CA" Adaptor
1 Fuel Hose Pigtail
1 Oxygen Hose Pigtail
Uniweld's Rollin' Roughneck is also available in H-Style or V-Style and with an optional built-in firewall and can ship installed or as a cart by itself.
Part Numbers:
A-Style Part No. 86050
H-Style Part No. 83550
V-Style Part No. 80060