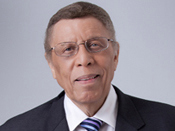 There's no cure for hydrocephalus and the current treatment was developed in the 1950s and requires brain surgery...My son deserves better options than we have now.
Chicago, IL (PRWEB) September 03, 2014
Harry Porterfield, CBS 2 Chicago 11 am news co-anchor with Roseanne Tellez, will stand with the Hydrocephalus Association to raise awareness for hydrocephalus on Sunday, September 6, as the Honorary Chair of the 10th Annual Chicago Hydrocephalus Association WALK. The WALK, to be held at Lincoln Park South Rowing Lagoon, will raise funds to support the Hydrocephalus Association's critical research initiatives and current education and outreach programs. The WALK falls during Hydrocephalus Awareness Month, a month dedicated to educating the public about this neurological condition that has no prevention or cure and where anyone is at risk to acquire the condition at any point in their life.
"There's no cure for hydrocephalus and the current treatment was developed in the 1950s and requires brain surgery. We need to raise awareness and money for research to find a cure and improve treatment options," says Katie Cook, chairperson for the local WALK and mother to 6 year old Conor, who was born with hydrocephalus. "It is an honor to have Mr. Porterfield assist local patients, families and caregivers give a call for action to the Chicago-area to help raise awareness and funds for research. My son deserves better options than we have now."
Harry Porterfield has long been a news icon in the Chicago area and remains well known for the franchise he created at CBS 2 Chicago in 1977, "Someone You Should Know," a series of profiles on everyday people who make a difference. Porterfield will be joined by Hydrocephalus Association CEO Dawn Mancuso who will also speak at this milestone event for Chicago. More than 600 participants are expected to participate in the WALK.
In addition to the 5K WALK, this year's event will have food, a face painter, a balloon animal creator, special kids' activities and other fun activities. The Chuck E Cheese Mascot will also make a surprise appearance. Families with hydrocephalus are invited to tell their story in poster format to be displayed on Ambassador Avenue. Participants raising $50 or more will receive a HA WALK T-shirt. Sponsors for the Hydrocephalus Association's 10th Annual Chicago WALK include: Genesis Automation, Cameron Can and SS&G. National sponsors are: Codman Neuro, Medtronic Neurologic Technologies, Aesculap, Inc. and Sophysa USA.
Please contact Katie Cook at chicagohawalk(at)gmail(dot)com for more information. According to Cook, there is still time to register to participate as a team or an individual walker by visiting http://HAwalk.kintera.org/chicago. Or you can call the HA national office at 888-598-3789 Ext. 12 or via email at walk(at)hydroassoc(dot)org.
About the Hydrocephalus Association:
Founded in 1983 by parents of children with hydrocephalus, the Hydrocephalus Association has grown to be the nation's largest and most widely respected organization dedicated to hydrocephalus. The Hydrocephalus Association began funding research in 2009. Since then HA has committed well over $3 million to research, making it the largest non-profit, non-governmental funder of hydrocephalus research in the U.S. All Hydrocephalus Association WALKs are volunteer initiated and volunteer coordinated. For more information, visit the Hydrocephalus Association web site at http://www.hydroassoc.org or call (888) 598-3789.