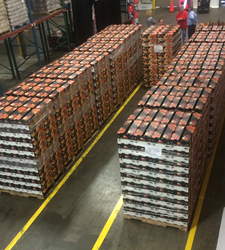 Matthews, N.C. (PRWEB) September 02, 2014
WHAT: Titan Farms' recently hosted its second annual Peaches with a Purpose program at Harris Teeter stores in North Carolina. The peach grower founded the program to support local food banks; Titan Farms will donate a percentage of the peaches purchased by Harris Teeter during the month of August to Second Harvest Food Bank of Northwest North Carolina. The donation is over 32,000 pounds of peaches and will be delivered to Second Harvest on Sept. 4, 2014, to coincide with the launch of Hunger Action Month.
WHO: Harris Teeter, Titan Farms, Second Harvest Food Bank of NW NC
WHEN: Thursday, Sept. 4, 2014
10 a.m.
WHERE: Second Harvest Food Bank of Northwest North Carolina
3655 Reed Street
Winston-Salem, N.C. 27107
Live Shots Welcome
CONTACTS:
Jenny Moore
Second Harvest Food Bank of NW NC
Phone: (336) 784-5770
Email: jmoore3(at)secondharvest(dot)org
Jen Velasquez
Golden Sun Marketing
Phone: (813) 254-0769
Email: jen(at)goldensunmarketing(dot)com