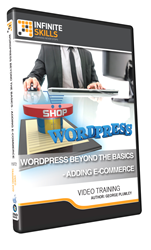 Learn WordPress Beyond the Basics - Adding E-Commerce at your own speed
(PRWEB) September 03, 2014
Software training firm Infinite Skills Inc. last week introduced its "WordPress Beyond The Basics - Adding E-Commerce Tutorial," an advanced course teaching WordPress users how to make use of the many plugins available for adding sales features to WordPress websites.
WordPress continues to provide a feature-rich content management system for creating blogs and do-it-yourself websites. According to current estimates, as much as 25 per cent of the world's total websites are created using WordPress.
Infinite Skills' "WordPress Beyond The Basics - Adding E-Commerce" focuses on the rich complement of third-party plugins and online communities that support WordPress development, looking in-depth at the selection of plugins and their particular features.
WordPress Beyond The Basics - Adding E-Commerce Tutorial - Streaming
Course author George Plumley has worked in web development since 1993 and began using WordPress in 2006. After producing a series of tutorials on YouTube in 2009, he was offered a book deal, and began publishing and training professionally on using WordPress. His titles include WordPress 24-hr Trainer, 100 Questions To Ask Before Building a Website, and most recently, 100 Beginner WordPress Tips, which features an innovative interactive e-book format.
The course begins with a set of lessons in preparation for adding e-commerce plugins. Plumley discusses the place of WordPress in the e-commerce field, its cost, and many other potential concerns, including how to choose which plugins to employ.
The course then proceeds by examining particular e-commerce features and how to use individual plugins to employ them on your site, starting with adding a PayPal "buy now" button.
Plumley then teaches how to create a catalogue, explaining how to organize products, include descriptions and media posts, create menus, and include a shopping cart.
The course then goes in-depth with shopping carts, explaining the WordPress Simple PayPal Shopping Cart plugin and the advanced functionality of the WooCommerce Plugin.
"There are a lot of choices for using plugins on WordPress. Whatever you need for your business, there's probably a plug-in that does it, along with a big community of support," Plumley explains.
"For individuals and small to medium sized businesses, WordPress is probably the best e-commerce solution, so this course is all about finding the right plugin for your e-commerce situation."
Free demo videos and a full list of course contents can be found on the "WordPress Beyond The Basics - Adding E-Commerce Tutorial" training page of the Infinite Skills website:
http://www.infiniteskills.com/training/wordpress-beyond-the-basics-adding-ecommerce.html
Infinite Skills offers its "WordPress Beyond the Basics - Adding E-Commerce Tutorial" either as a DVD or a direct download from the company website at a retail price of $49.95, or as part of its subscription streaming service at a rate of $25 per month. All Infinite Skills titles and formats are compatible with both Mac and Windows operating systems, and shipping is available around the globe. Infinite Skills tutorials are supported by project files which correspond to examples in the videos.
About Infinite Skills Inc.
A leader in the field of software training, Infinite Skills strives to offer the highest quality training available at an affordable cost. Infinite Skills tutorials are task-oriented instructional videos, teaching complex skills by providing hands-on examples, guiding users as they carry out critical objectives. Infinite Skills offers a comprehensive range of software titles available as DVDs, digital downloads, and iPad editions, keeping with company aim of delivering professional training to customers anywhere they want to learn.