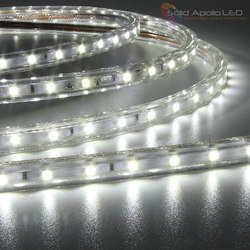 the new Driverless 3528 LED Strip Light brings higher quality, more accurate directional light control and more color options to match a variety of projects
Seattle, WA (PRWEB) September 15, 2014
LED lighting company, Solid Apollo LED, introduces the new more compact and value priced driverless 3528 LED Strip Light with three white color options. The driverless strip light can be ordered in lengths as short as 19 inches and as long as 165 continuous feet using just one plug. The 3528 driverless strip light is waterproof and comes ready to plug in straight out of the box and has a variety of accessories available to ensure a perfect fitting installation.
Currently do-it-yourselfers, architects and designers have limited options towards high quality long lasting driverless LED strip lights, either the cost is too high or excessive wiring is needed to complete the installation. One alternative is rope lights, but due to their low quality and inefficient non-directional light and limited configuration accessories, it can be hard to accurately aim the light in the correct direction, and even harder to create an installation that correctly fits. Low voltage light strip is also available, but extra wiring, splicing and installation time is required for repowering the strip to avoid voltage loss and light dimming.
Solid Apollo LED has created the new plug in driverless LED strip light with matching accessories to create an installation which correctly fits and accurately casts light in the correct direction. "LED rope lights were great when they came out, but with the low quality, short lifespan and soon diminishing brightness, the LED rope light has a lot left to be desired" stated Manuel Barquin, CEO of Solid Apollo LED, "the new driverless 3528 strip light brings higher quality, more accurate directional light control and more color options to match a variety of projects."
Solid Apollo LED's 3528 driverless LED strip light is perfect for long length runs requiring waterproof LED lights. Install under the railings of decks, outline pathways, tuck in soffits, wrap around gardens or use in façade lighting. The thinner more compact design is just 0.31" wide for fitting in even more tight spots and to more easily hide the strip so only the light from the strip is visible. Solid Apollo LED also has the accessories to make difficult installations easy, with connectors, brackets and repowering strips available to make bends, jumps and even through-wall installations simpler.
The 3528 is fully dimmable and uses high quality materials to ensure a long 20,000 hour lifespan. Three white colors are available, Pure White, Daylight White and Warm White to match the varied colors on a variety of projects. Look to the driverless 3528 LED Strip Light as the plug in long life solution for indoor and outdoor projects.
Another driverless option for outdoor projects is the iChroma 20W Wall Washer from Solid Apollo LED. The iChroma is perfect for washing vibrant colors on walls and wide surfaces, and comes with a built in controller with pre-loaded programs, or control the iChroma with a remote or in-wall controller.
About SolidApollo.com: Solid Apollo manufactures and distributes a wide range of LED lighting products and solutions.