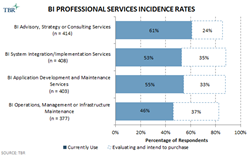 Hampton, NH (PRWEB) September 03, 2014
Technology Business Research Inc.'s (TBR) 3Q14 BI Professional Services Customer Research report shows that 60% of business intelligence (BI) professional services customers adopted their BI solution within the past two years, and 55% of customers are evaluating additional BI solutions. The relative immaturity of the BI professional services market forces customers to rely on software vendors to deliver implementation. However, as customers seek to adopt or expand BI capabilities and move beyond implementation, software-centric vendors will cede more of the rapidly growing BI services market to consulting and systems integration (C&SI) vendors providing testing, planning, development and optimization services as the overall BI services market expands from approximately $60 billion today to more than $85 billion in the next two years. TBR estimates that BI professional services market expansion will outpace overall IT services growth as analytics adoption becomes more mainstream.
"Organizations increasingly adopt big data and analytics platforms to drive greater operational efficiency and revenue growth," said TBR Professional Services Analyst Jennifer Hamel. "BI will start to play a larger part of IT services engagements as clients seek assistance with options, deployment and ongoing use."
TBR surveyed 228 end users of BI professional services across North America, western Europe, India and China to provide IT services executives with insight into customer adoption, buying behavior and the competitive landscape. Vendors with end-to-end BI professional services are best-positioned to win prospective customers in the next year as organizations move beyond the exploratory phase to build, customize and manage BI software deployments to drive business outcomes and ROI. To profit from the broad spectrum of maturity in the market, professional services vendors can leverage advisory and consulting to help new buyers navigate solutions and position SI and managed services to extract greater value from existing BI investments.
"BI professional services customers value relationships and want contact from current IT services vendors, from consultants and from sales teams to help them evaluate solutions," Hamel noted.
More frequently, the person making the buying decision is in the C-Suite, indicating that high-level, established relationships factor more significantly into BI and analytics than expertise and capabilities, which are likely presumed to be adequate or better. Adoption rates for BI advisory and consulting services are highest in the telco and healthcare industries and the EMEA and APAC regions, presenting opportunities for vendors to cross-sell systems integration, application development and maintenance, and management services. Optimizing customer relationships tops the list of challenges BI buyers hope to address, as organizations seek to understand changing customer preferences for retention and upselling purposes, placing vendors with customer-centric analytics in the ideal competitive position.
TBR's BI Professional Services Customer Research report helps vendors build strategic go-to-market plans by providing quantitative insight and customer interviews, enabling vendors to align portfolio to opportunity by examining the landscape through a business-centric lens and highlighting customer buying behavior. The report identifies leaders and laggards, as well as opportunities for buyers and providers in the BI professional services market.
For more information about the BI Professional Services Customer Research report or to purchase the report, please contact Alison Crawford, senior marketing manager, at 603.758.1838 or alison.crawford(at)tbri.com, or James McIlroy, vice president of sales, at 603.758.1813 or mcilroy(at)tbri.com.
ABOUT TBR
Technology Business Research, Inc. is a leading independent technology market research and consulting firm specializing in the business and financial analyses of hardware, software, professional services, telecom and enterprise network vendors, and operators. Serving a global clientele, TBR provides timely and accurate market research and business intelligence in a format that is uniquely tailored to clients' needs. TBR analysts are available to further address client-specific issues or information needs on an inquiry or proprietary consulting basis.
TBR has been empowering corporate decision makers since 1996. For more information please visit http://www.tbri.com.