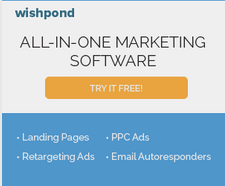 "Our new program is a clear win-win for both Wishpond and our Affiliate partners," Ali Tajsekandar, CEO of Wishpond
Vancouver, BC (PRWEB) September 03, 2014
Wishpond, the all-in-one marketing suite that makes it easy to generate and nurture leads, officially announced the launch of its affiliate program today. The program provides qualified affiliates with recurring commission opportunities for promoting Wishpond products.
Starting immediately, affiliate marketers can earn generous income simply by promoting how to create landing pages, social contests and email automation campaigns using Wishpond's all-in-one marketing suite.
Affiliate program members benefit with a highly competitive 30% commission structure. The 30% commission is recurring for the lifetime of a referred customer.
For example, when an affiliate refers a customer to the Pro Plan, the referred customer pays $129 per month for access to unlimited landing pages, social promotions, forms, popups, online advertising tools, A/B testing, lead management and more. The referred customer uses Wishpond's all-in-one marketing suite each month, and the affiliate receives a 30% fee of $38.70 every month - or $464.40 a year - for each Pro Plan customer referral.
There is no cost for the affiliate, and eligible payments are made monthly.
Wishpond facilitates the success of affiliates by providing all the marketing resources needed. The authorized Wishpond affiliate resources include visitor and sales statistics, multiple banner ads for websites, case studies & testimonials, and email, signature & text description ads.
"Our new program is a clear win-win for both Wishpond and our Affiliate partners," said Ali Tajsekandar, CEO of Wishpond. "By working with affiliates globally, we're not only expanding access to Wishpond's comprehensive online marketing platform, we're also giving our partners a lucrative opportunity to generate recurring income. Revenues in online marketing continue to skyrocket as businesses small and large shift to the digital realm."
Wishpond has been developing new tools and features at rapid speed - and quickly acquiring customers globally - including mobile responsive landing pages, webinar registration pages, online forms, ebook download pages, and retargeting ads.
While there are hundreds of online marketing platforms that provide siloed tools for one or two pieces of a successful marketing campaign, Wishpond stands out by offering all of the tools in one easy-to-use suite. Wishpond makes it easy for marketers to create landing pages, contests and promotions, website popups, online forms, ads, and email marketing automation campaigns at the click of a button. Leads can be easily managed and segmented by firmographics and demographics.
Read more about the Wishpond Affiliate program.
About Wishpond
Wishpond is an all-in-one marketing suite that brings all of the tools a marketer needs under one, integrated, platform. Wishpond tools work seamlessly together, saving marketers time and money, with complete campaign reporting across all channels in one dashboard. With over 100,000 business customers worldwide, in 44 different languages. Wishpond's integrated suite empowers marketers to attract leads with online advertising, capture them with landing pages, manage and segment leads in a simple database, and nurture them into sales with automated emails.