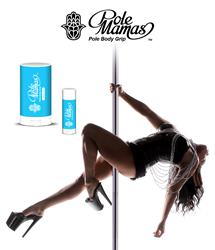 There's no longer a reason to limit your grip product to one engineered with harmful chemicals, messy applicators, or unpleasant smells.
Oviedo, FL (PRWEB) September 02, 2014
The Pole Mamas have created a grip aid product that has been tested and reviewed by pole dance & pole fitness athletes from all over the world, this unique pole body grip is gaining momentum and notoriety within the industry with each passing day. As a thank you for the overwhelming love & support received and in celebration of their new website launch, the Pole Mamas are currently hosting three separate contests. They will be running these contests from Sept, 4th - 7th at the 2014 Pole Expo Las Vegas.
Pole Expo Las Vegas is an annual event that encourages women and men to develop self-respect and healthy lifestyles through the physical and emotional fitness of pole dancing. Pole Mamas will be providing this event with samples of their lightly scented easy to apply body grip formulated specifically for the pole dance & pole fitness community.
"We look forward to meeting many of our fellow pole dance & pole fitness enthusiasts and those leading in the industry" Pole Mama Janet, Co founder of Pole Mamas.
Polemamas.com is their brand new website showcasing the Pole Body Grip product. All registrants of the 2014 Pole Expo will receive a sample of this product in their swag gift bags. Free grips and other prizes will be given out to contest winners after the expo. The contests begin on Sept 4th and end on Sept 7th. (Not all contests require a pole expo registration) More information on how to participate, rules and prizes, can be found at http://polemamas.com/pole-expo-contest.
Who are the Pole Mamas? Elaine, Dara, and Janet - are the creators of Pole Body Grip - the grip formulated and tested by Pole Athletes. As full time mothers, workers, and students they needed something fun, exciting, and challenging to stay fit. Pole fitness was the answer!
Why Pole Body Grip? After trying many varieties of pole dance grip aids with harmful chemicals, messy applicators, and unpleasant smells, they decided to create their own formula with natural ingredients to provide polers with a superior non-slip surface wile training or performing.