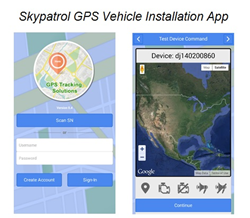 Now, with this smart mobile application, we are adding huge efficiency to our package of solutions
Miami, Florida (PRWEB) September 02, 2014
Skypatrol, a global leader in GPS integrated tracking solutions, is proud to announce the launch of its GPS Vehicle Installation app today, that brings much needed automation to the GPS vehicle installation process, and removes the guess work associated with a successful GPS installation with a set of comprehensive validation tests. This app is the first in a series of companion applications designed to complement the suite of Skypatrol GPS tracking solutions.
With this GPS Vehicle Installation app Skypatrol customers will be able to eliminate most if not all of the manual data input involved in an installation by simply scanning key data points like VIN, stock number, and GPS device serial number securely into the system. The data is then transmitted to the Skypatrol platform where it is decoded and saved to the account. Once the scanned VIN number is uploaded to the platform, the Skypatrol VIN database is able to populate the customer file with comprehensive vehicle data.
"We are excited to announce that our innovative GPS Vehicle Installation app is ready for release. This past year we won the best platform award with Defender 2.0, as the best risk mitigation software serving the nonprime vehicle finance industry. Now, with this smart mobile application, we are adding huge efficiency to our package of solutions. Using this tool, our customers are going to experience a faster installation process and accurate vehicle identification data from the installers with no data input or keystrokes required. Just a scan and the data is securely imported to the customer's platform without the data entry expense," said Robert Rubin, Skypatrol CEO.
Skypatrol customers can use this new app to deploy installers with confidence knowing there is a robust security system in place that only allows the installer access for a limited time, further ensuring privacy and security.
For installers, this new app boosts efficiency and allows them to work more quickly without sacrificing accuracy. When a GPS is successfully installed a notification is sent through the system, easily and efficiently closing the loop.
The new Skypatrol installation app successfully completed its beta trials last month. The app was rigorously tested as an integrated component of Defender 2.0 and Protek GPS two of Skypatrol's most advanced platforms.
About Skypatrol LLC
Skypatrol builds innovative software tools uniquely combined with its proprietary GPS hardware and firmware to help businesses monitor, protect and optimize mobile assets in an increasingly machine-to-machine world. Skypatrol serves many markets including vehicle finance, fleet management, mobile asset tracking, automobile dealerships, outdoor sports and motor sports. Skypatrol is a global leader in integrated GPS tracking solutions on a wide variety of platforms including GSM and CDMA cellular networks and dual mode satellite devices, serving customers in the Americas, Europe and Asia. For more information, visit http://www.skypatrol.com.