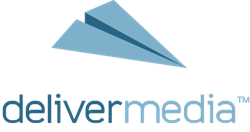 "Video marketing gives businesses the opportunity to captivate their audience while describing their products and services in a more emotional and personal way, in comparison to traditional media" - Sean Johnson, Deliver Media CEO
Tampa, FL (PRWEB) September 03, 2014
Deliver Media, a full-service integrated marketing agency, has recently added video marketing to its suite of marketing solutions. As consumers are shifting their viewing habits from television to the Internet, Deliver Media recognizes that video marketing is becoming an increasingly popular and valuable marketing medium for businesses.
"Video marketing gives businesses the opportunity to captivate their audience while describing their products and services in a more emotional and personal way, in comparison to traditional media," said Sean Johnson, Deliver Media CEO. "It enables a business to more personally connect with potential customers, which is very important in our digital world."
Deliver Media helps businesses leverage videos to share things like their company culture, allowing consumers to feel more connected and trusting of the business. Other businesses leverage video as an instructional tool, walking their audience through key features and benefits of their products and services.
Deliver Media asserts that video marketing is truly powerful for businesses that are trying to increase their visibility across major search engines. Google and other major search engines recognize that videos typically offer high quality content and therefore, place a lot of importance on them.
Deliver Media specializes in video optimization and works closely with their clients through the video development and promotion process. Keyword and search term optimization not only helps to increase the visibility of a video and brand, but also drives more traffic to a business website.
Large franchise systems such as Home Instead Senior Care currently partner with Deliver Media for their video marketing efforts. Deliver Media also works with other multi-unit franchises as well as a variety of small businesses. Their team of Internet Presence Management Specialists strategically target specific locations with videos as well as optimize the content around the client's services to deliver the greatest results.
About Deliver Media:
Deliver Media is a Tampa-based agency providing cutting edge integrated marketing services. They provide full-service marketing and advertising services from targeted postcard marketing and direct mail campaigns to fully-functional website development, video marketing, SEO, digital advertising, and social media management.
Deliver Media serves clients across North America and Canada, including Domino's Pizza, GNC, Mitsubishi, Home Instead Senior Care, Wash, Lube, and Repair (WLR), and Naturalawn.
# # #
If you would like more information about this topic, please contact Emily Walsh at 800-377-4683 X 227 or email at Emily.Walsh(at)delivermedia.com.