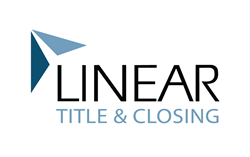 (PRWEB) September 03, 2014
Linear Title & Closing, Ltd today announced a new division, which will provide products and services to title insurance agencies in order to help them grow their business and to better serve clients. Since 2005 Linear Title has offered Title & Closing services in all 50 states. Linear's wholly owned subsidiary, Nexgen Compliance Solutions, has developed key industry products such as Title Hound and Certus designed to assist title agents in managing title fees and recording data.
The new division will offer title agents streamlined title services in states where they are not licensed and can provide complimentary data products and Encompass Integration as part of a bundle. "It's a strong approach to bundle title services for agents with software products they require. Our title integration with Encompass helps agents grow their top line while engaging Linear for title services in certain states allows agents to realize additional income", said Nick Liuzza, CEO of Linear Title.
Linear Title is a highly automated national title agency and its process is proven to increase efficiency, which will allow title agencies to offer a strong value proposition while competing for new business in new markets. Local title agencies will remain the single point of contact for their client relationships, while Linear handles the back end processing in a fully compliant model. Data Products such as TitleHound and Certus and Encompass Integration can be bundled into one price for title agencies engaging Linear Title to offer title services.
About Linear Title & Closing:
Linear Title & Closing, Ltd. is a highly technical, national title agency delivering title & closing services for purchases, refinances, and REO transactions nationwide. We also offer related products such as ownership and encumbrance reports (O & Es), trustee sale guarantees (TSGs), scored foreclosure information reports, and property reports to large lenders and default servicing companies. We provide lenders and servicing companies a competitive advantage by improving economies through faster turn times, streamlined processing and through the utilization of topical technology. Our change of circumstance tool allows our clients to receive real time updates to title documents initiated from their platforms or from our web portal. Linear Title maintains an "A+" rating with the BBB and is a member of the INC 5000 list. To learn more about Linear Title & Closing visit them at http://www.lineartitle.com.