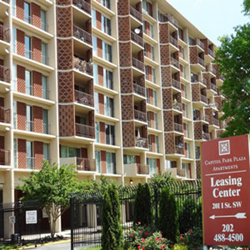 We have trusted RED over the years with refinancing this property because they have proven time and again their expertise in the FHA lending space.
Dallas, TX (PRWEB) September 03, 2014
RED Mortgage Capital, LLC, the mortgage lending entity of comprehensive capital provider RED CAPITAL GROUP, LLC, announced the refinance of Capitol Park Twins and Plaza located in Washington, D.C. Property owner Capital Park Apartments Limited Partnership (CPALP) is a long standing RED customer who again turned to the experienced team at RED to structure this refinancing.
Capitol Park Twins and Plaza is a 648-unit apartment building within view of the U.S. Capitol building. With its circa 1960's façade, the building stands as an architectural landmark designation in the area known as Southwest in D.C. The apartment high-rise provides 65% of the units at a 60% AMI with the rest of the units at market value.
The long-term, fully-amortized loan was financed under FHA's 223(f) program at an attractive interest rate. As a result of the refinancing package, the owner was able to recapitalize $1.4 million, which was used for minor renovations. In addition, the transaction was structured to create a $2 million reserve for future capital needs. The HUD Baltimore and Hartford field offices worked diligently on the project closing, which resulted in the preservation of much needed affordable housing the Washington, D.C. area.
David Goodman, Senior Advisor at RED said, "This transaction demonstrates the powerful reciprocal benefits of relationship lending for both RED and the borrower, CPALP. RED has worked closely with CPALP to finance and refinance this important apartment community five times over the past twenty years. A wide variety of financing vehicles have been utilized including, tax exempt FHA insured bonds; Fannie Mae DUS®; bridge lending; construction lending; and FHA 223(f), and LIHTC." Goodman continued, "It was a great privilege to be entrusted to refinance this virtually completely full apartment community."
"We have trusted RED over the years with refinancing this property because they have proven time and again their expertise in the FHA lending space," said Brian Wilson, President of Capital Park Apartments LP. "As a result of RED's financing, Washington D.C. now has a modern, up-to-date, moderate rental apartment project."
***
About RED CAPITAL GROUP, LLC
Recognized for its industry expertise, innovative and comprehensive structures, and consistently high rankings, RED CAPITAL GROUP, LLC has provided over $55.3 billion of integrated debt and equity capital since 1990 to the seniors housing and health care, multifamily, affordable, and student housing industries through three operating companies. RED Mortgage Capital, LLC is a leading Fannie Mae DUS® and MAP- and Lean-approved FHA lender with a mortgage servicing portfolio of almost $18 billion. RED Capital Markets, LLC (MEMBER FINRA/SIPC) is a leader in the distribution of Fannie Mae and Ginnie Mae Project MBS, and provides structuring, underwriting, placement, and advisory services for tax-exempt and taxable housing and health care bonds. RED Capital Partners, LLC provides proprietary debt and equity solutions, and asset management in a range of forms, including subordinated gap and bridge loans. RED CAPITAL GROUP, LLC is a subsidiary of ORIX USA Corporation.
About ORIX USA Corporation
ORIX USA Corporation is a diversified financial company with approximately $6 billion of assets in sectors spanning commercial finance, venture finance, commercial real estate and public finance, as well as $25 billion of assets managed for others. Operating subsidiaries include Houlihan Lokey, RED CAPITAL GROUP and Mariner Investment Group. Headquartered in Dallas, Texas, ORIX USA and its subsidiaries have more than 1,400 employees and offices in major cities including New York, Los Angeles, London and Tokyo.
ORIX USA is a wholly owned subsidiary of ORIX Corporation, a Tokyo-based, publicly owned international financial services company with operations in 35 countries worldwide. ORIX Corporation is listed on the Tokyo (8591) and New York Stock Exchanges (IX). For more information on ORIX USA, visit http://www.orix.com.
DUS® is a registered trademark of Fannie Mae.