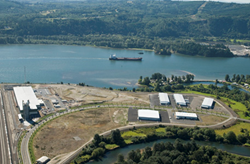 Kalama, Washington (PRWEB) September 03, 2014
Port of Kalama officials announced they have passed two additional milestones in their efforts to clear a pathway for construction of a two-phase $1.8 billion plant to manufacture methanol at a port industrial park.
Approximately 1,000 workers would be employed during several years of construction. Once operational, each phase will employ about 120 people. NW Innovation Works is proposing to build the plant which would manufacture methanol from natural gas.
The first milestone is an agreement with Burlington Northern Santa Fe Railway to sell approximately two acres of land to the port which is needed to provide dedicated access to the site.
"BNSF acted expeditiously on our offer to acquire the property because they recognize how important this jobs-creating project is to our community," said Alan Basso, Port Commission President. "We are very grateful for their cooperation."
Meanwhile, the second milestone cleared is retaining a consultant team to provide expert advice and technical assistance related to the proposed project.
Three firms have been retained:

The port and NW Innovation Works are retaining BergerABAM, under separate contracts, to conduct studies and design work, which are necessary prior to submitting permit applications to various government agencies. The port will pay for the study elements that are its responsibility and NW Innovations Works will pay the study costs associated with its responsibility.
The studies and design work are focused on the North Port site and the improvements that will be necessary for construction and operation of the methanol facility, including for a new wharf. BergerABAM expects to complete the studies within 12 months. Studies related to permitting to extend the gas line to the site are separate and will be done by Northwest Pipeline, the firm selected to provide natural gas.
Endeavour EHS of Portland, Oregon is advising the port on environmental, health and safety issues and will review the project to ensure compliance with local, state and federal health and safety regulations.
Cape International of Juneau, Alaska, will be advising the port on issues related to the design of the dock and loading facilities to ensure they meet U.S. Coast Guard requirements.
"These two milestones, together with the agreement between NW Innovation and Northwest Pipeline, are key actions that advance the project," said Mark Wilson, Executive Director. "This project promises a lot of good local jobs and economic benefits and we're moving forward with purpose."
Additional information about the NW Innovation Works proposal can be found at: http://www.nwinnovationworks.com.
About Port of Kalama – Where rail and water meet:
The Port of Kalama is located in Southwest Washington on the Columbia River and immediately off of Interstate Highway 5. The port exists to induce capital investment in an environmentally responsible manner to create jobs and to enhance public recreational opportunities. Port of Kalama's industrial area includes five miles of riverfront property adjacent to the 43' federally-maintained deep draft navigation channel of the Columbia River. The Port is served by the Burlington Northern/Santa Fe and Union Pacific railroads. There are over 20 industries located at the Port of Kalama, employing over 830 people. Port of Kalama offers all the superior facilities businesses need to thrive, and an unsurpassed quality of life. The port offers shovel ready sites, a new Industrial Park, state of the art Marine Terminals and transportation accessibility to rail and highway all just a 30 minute drive to the Portland International Airport. Port of Kalama also offers high-bandwidth communications, with dual access fiber-optic service to Seattle and Portland. Properties currently available at the port for businesses wishing to expand and thrive: visit http://portofkalama.com/industrial_property.