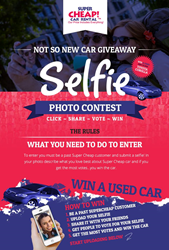 We are very excited to be running this contest again this year.
Los Angeles, California (PRWEB) September 04, 2014
Super Cheap Car Rental would like to introduce the Not So New Car Give Away Selfie Contest. This a no purchase necessary contest for loyal customers of Super Cheap. One lucky customer will receive a 2004 to 2006 4-door 5-passenger Toyota Corolla just by submitting a selfie with a brief caption explaining why they love Super Cheap. The entry deadline for the contest is 31 March 2015. All contestants must be 18 years or older, and a legal resident of the United States in order to qualify for entry.
The Corolla is a top choice in used cars. With highway mileage at 40 MPG, and city at 32 MPG, the Corolla has desirable fuel economy. Reviews of Corolla owners show that these cars have a history of lasting 200,000 miles and more on the road. The Corolla is a reward that keeps on giving for years after the contest is won, without adding all the extra maintenance normally associated with older cars.
Once the deadline has passed, each contestant's selfie will be posted to the contest Facebook page for voting to begin. Votes will take place in the form of "Likes" on each selfie. Voting begins on 1 April 2015, and ends on 15 August 2015 at 11:59 PM. Contestants are encouraged to share their selfies and the contest page across social media networks to boost their chances of winning. Results will be announced on 2 September 2015 via Facebook.
In the result of a tie, Super Cheap officials will have their hand at voting. As no friends or relatives of Super Cheap employees are permitted entry into the contest, their decision will be made purely based on creativity of selfie and caption. Each selfie needs to be unique, and created solely by the contestant. The more unique and personalized, the better. This contest has always been built around creating a fun, inclusive community where Super Cheap can show customers how much they are appreciated. As Danny Barker, Owner of Super Cheap Car Rental, said, "We are very excited to be running this contest again this year."
To keep the contest community friendly, please keep all obscene, derogatory, defamatory, and inappropriate content out of your selfies. Only contestants that adhere to the Facebook Terms of Service will be eligible to win. And to make sure only those who want to be in the spotlight are, only selfies that do not infringe another individual's copyright, privacy, publicity, or trademark rights will be eligible.
Super Cheap looks forward to seeing the end results. So, bring out the camera, and send in those selfies.
Enter here: https://www.facebook.com/SuperCheapCarRental/app_451684954848385