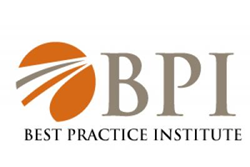 West Palm Beach, FL (PRWEB) September 03, 2014
Best Practice Institute (BPI), a world leader in leadership development and peer benchmarking, has been named as a top 10 winner of a 2014 Leadership 500 Excellence Award.
BPI is being honored for its incomparable Senior Executive Board (SEB), an ultra-exclusive program for the senior talent executives of several of the world's largest companies.
"We are quite honored that our Senior Executive Board program is being singled out for recognition," said Louis Carter, founder and CEO of Best Practice Institute. "It is an even greater honor to get to work on a daily basis with some of the finest women and men in the modern business world through our SEB program."
The Leadership 500 Excellence Awards are presented annually by Leadership Excellence, the popular business journal, which was acquired by HR.com in 2013. The awards recognize outstanding leadership development programs and are based on peer- and end-user ratings and a review team that considers impact, creativity and execution. BPI has been honored by Leadership Excellence since 2012.
The BPI Senior Executive Board is a year-long program involving 15 to 25 world-class talent management executives. The exceptional group of senior leaders is led by Carter and BPI to inform, challenge and encourage each other. The unique program includes face-to-face meetings, web conferences, social learning and networking, coaching and assessment.
"I have found solutions to problems through the BPI Senior Executive Board that I would normally have to pay a consultant $1M to answer for me."

EVP of Human Resources, Boston Scientific
The SEB meets twice face-to-face annually and is set to meet in November at the Pentagon. The conference will be guest hosted by COL Gary Kayser, Director of Training (Colonel, U.S. Army Reserve) Office of the Secretary of Defense (OSD) at the Pentagon. COL Kayser was awarded the Afghanistan Campaign Medal in 2011 and Global War on Terrorism Medal in 2001. It will feature sessions on such topics as preparing women for leadership roles, developing managers and C-suite successors, creating a culture of coaching, organizational learning strategies, and global cultural transformation.
"Best Practice Institute is genuinely dedicated to finding and promoting best practices and next practices in a positive, inspirational, and aspirational way. Global leaders turn to BPI, its Senior Executive Board, and professional consultancy to collaboratively investigate current trends and co-create next practices together. BPI helps organizational top teams to clarify annual talent goals and as a group discover and create new ideas and approaches to what they do and provoke great thinking. BPI creates real, actionable plans and programs with clients based on the best tools, models, instruments and developmental content in the industry today."

David Deacon, Chief Talent Officer, MasterCard Worldwide
Best Practice Institute is a leadership development organization with more than 42,000 subscribers, including employees of more than half of the Fortune 500. BPI was founded and is led by leadership expert Louis Carter, author of Best Practices in Leadership Development and Organization Change, Best Practices in Talent Management, The Change Champion's Fieldguide among many others. Carter said his goal has always been for BPI to be "the world's #1 go-to leadership development source."