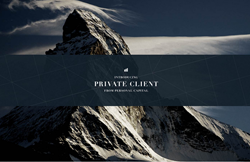 San Francisco, CA (PRWEB) September 02, 2014
Personal Capital is bringing modern technology to the slow-changing world of investment management. "Personal Capital is the first and, to my knowledge, only digital wealth management firm," said CEO Bill Harris. "And today we are launching a new Private Client service, designed around the needs of families with millions of dollars to preserve and invest."
Personal Capital's Private Client offering is an integrated suite of services never before available in a single place.

The world's best personal finance software
Accessible on web, iPad, iPhone, Android phone and tablet, and the Google watch
Daily gathering of family's financial data from all accounts at all banks/brokers
Comprehensive financial planning with a Certified Financial Planner
Sophisticated portfolio construction, rebalancing and tax optimization
Special treatment of alternative investments, highly-appreciated positions, stock options, private company stock and real estate holdings
A full suite of private banking services, such as mortgages and lines of credit
Dedicated financial advisors who monitor your money so you don't have to
"Personal Capital brings new and incredible technology, combined with advisors, to investors," said Charles Goldman, former head of Charles Schwab's registered investment advisor business and current Personal Capital Board Member. "Their innovative and amazing tool set is a great way for investors to manage their financial lives."
Because of the advanced technology platform underpinning the Private Client service, the resulting cost savings are reflected in lower fees. The fees are simple, transparent and complete – they include costs and fees sometimes hidden or charged separately at other wealth management firms.
The first $3 million..............0.79% of managed assets
The next $2 million.............0.69% of managed assets
The next $5 million.............0.59% of managed assets
Above $10 million................0.49% of managed assets
Many wealth managers charge approximately 50% more. For a family investing $2 million, the total savings compounded over twenty years would be $485,000.
About Personal Capital: Personal Capital is a next generation of financial advisor. The company melds technology with professional advisors to help households with complex financial lives manage their wealth. Over 500,000 people track $100 billion in accounts using the free Dashboard, and the firm manages over $760 million for investment clients.
Disclaimer: Personal Capital Advisors is an SEC registered investment advisor. Any reference to the advisory services refers to Personal Capital Advisors. SEC Registration does not imply a certain level of skill or training. The savings figure is calculated based on a 7% return before fees. Return figure is for illustrative purposes only and is not a guarantee of future performance.