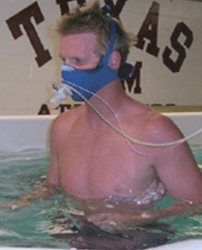 The science proves what we have always thought: Our products provide a low-impact, high-results alternative to lowering responses to everyday stressors.
Middletown,PA (PRWEB) September 04, 2014
For the estimated 67 million Americans who suffer from high blood pressure, finding natural ways to improve their condition can be challenging, especially for those who are generally sedentary. In fact, the Centers for Disease Control and Prevention believe that only 47 percent of people who have been diagnosed with high blood pressure have it under control. Unless this figure changes considerably, the cost of health care associated with high blood pressure treatment will only continue to skyrocket as Baby Boomers follow the natural aging processes. Thankfully, a recent study released by researchers at Texas A&M University may hold the key to helping those with higher than normal blood pressure keep their numbers at a lower rate through regular activity on an underwater treadmill in a HydroWorx therapy pool.
The study, Aquatic Treadmill Training Reduces Blood Pressure Reactivity to Physical Stress, has been published in the American College of Sports Medicine's journal, Medicine & Science in Sports & Exercise®. During their scientific investigation of blood pressure as it relates to stress during exercise on an underwater treadmill, Authors Lambert, et al, tracked the responses of 60 adults who worked out on either land-based treadmills or in a HydroWorx therapy pool on an underwater treadmill during very specific sessions each week. The results of the testing showed that while all endurance exercise reduces blood pressure and the body's related stress responses, the aquatic treadmill training significantly reduced the participants' resting diastolic blood pressure more than the land-based treadmill training did. The researchers concluded that high blood pressure brought on by stress levels could be organically reduced through regular endurance intervals on an underwater treadmill.
Says Anson Flake, Co-Founder and CEO, HydroWorx, "We have heard anecdotal evidence of people using our therapy pools as a way to lower their blood pressure for years. Now, Texas A&M has put solid numbers to those claims. The science proves what we have always thought: Our products provide a low-impact, high-results alternative to lowering responses to everyday stressors."
The outcome of the Texas A&M study provides a great deal of encouragement for those with high blood pressure who wish to become healthier through the use of a more natural remedy than medication. Even more reassuring is the fact that the participants were not highly active in their everyday lives, revealing the potential for any person to reap the benefits of aquatic treadmill exercise regimens.
About HydroWorx
Since the late 1990s, HydroWorx—based in Middletown, PA—has manufactured aquatic therapy pools with built-in underwater treadmills to enable physical therapists to more effectively offer their patients the opportunity to increase range of motion, decrease risk of falls and joint stress, and remain motivated through the rehab process. Every day, more than 23,000 athletes and patients use HydroWorx technology to recover from injuries and health conditions. For more information, please visit http://www.hydroworx.com.